Prickly Bay

Innamorata
Steve & Carol
Sat 10 Mar 2018 18:09
11:59.99N 61:45.74W
We had a very short trip to the next bay and anchored in what turned out to be the part of the bay affected the most by swell– we had a terrible first night rocking and rolling, we were set to leave but instead we moved about 50m forward where there was less swell and anchored there – it's hard to believe that moving such a short distance could make such a difference but it did and we subsequently had peaceful nights.
We had a good time in Prickly Bay although we would not want to spend too long there – the water is permanently cloudy so not good for swimming or snorkelling, this is due to the dirty water running off the land it is meant to be better this time of year but its been a wet season so far so still very murky. It does have good services, easy buses to shops and St Georges, a chandlery, a couple of washing machines cruisers can use for a very reasonable fee.
Unlike the UK where you can buy what you want almost everywhere shopping here is different its hard to get items that I use every day in cooking, it is however great to find familiar items and the IGA supermarket a bus ride away has a much better variety than any we have seen since Barbados.
Whilst here we visited St Georges for a walk around and did an island tour with Joan and Sara.
In St Georges we visited Fort George – built in 1706 it overlooks the Carenage, lagoon and outer harbour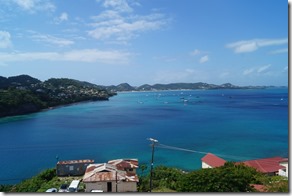 there is still evidence of Hurricane Ivan in 2004 with many buildings still in ruins.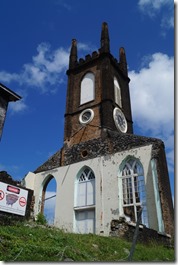 We did an Island tour with Joan and Sara – some of the places we visited on route:
An old plantation which grows Cocoa and Nutmeg and other spices – many of the trees were destroyed in 2004 with hurricane Ivan
Cocoa drying in the sun
The inside of a cocoa pod and a nutmeg before it's dried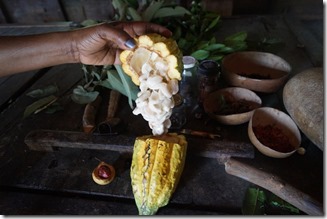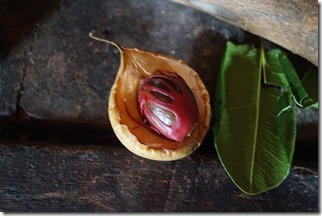 The island's largest Nutmeg sorting and exporting station.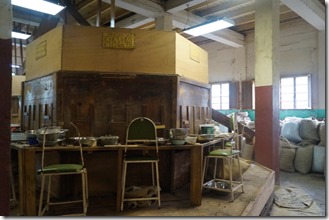 Jouvay chocolate factory – which does make rather yummy chocolate – ironically it's cheaper at the supermarket than at the factory! Cocoa pods grow all year round the plants get new flowers every day some of which grow into the fruit, its a perfect crop you can harvest all year.
Vats of chocolate Old ruins which were once part of the plantation.
A Rum factory – although we weren't convinced they bottle it here! – workers were trying to mend the sugar cane crushing machine when we were there.
This gets heated then stored distilled into rum
Im not sure Steve was too keen on the 75% proof end product! Joan and Sara trying a sample.
Grenada is certainly a lush green island it has many waterfalls and springs – we visited Annandale falls – not too spectacular!
Pictures from the tour contrast of the coast and the interior rain forest covered with clouds.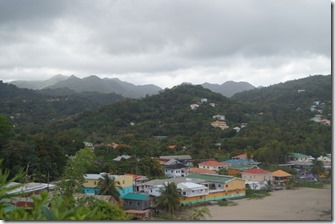 A Frangipani tree that has been attacked by moth caterpillars who eat the leaves, this catapillar was on a plant near the tree.
---