Barbados

Innamorata
Steve & Carol
Thu 12 Jan 2012 22:49
Well we love it here, great place, friendly people and lots of socialising, we arrived a week ago now and have been busy, we spent the first day catching up on sleep and tidying the boat, in the evening we went to the beach for drinks with some of the other boats, by the time we left the surf had built up and we had little mishap getting the dinghy off the beach which resulted in the outboard taking a swim (which isn't good for it), Steve did a brilliant job of cleaning it with fresh water, carb cleaner etc and the next day after a little persuasion it fired up so all was well and it lived to tell the tale – we now row ashore for the beach parties.
We have met up with John ( from UK) a few times and visited Speightstown we went there on a blue bus – state run, and returned on a yellow - bus privately owned, both cost $2 a trip anywhere on the island but the yellow ones play very loud music which make the journey like a fairground ride.
Lunch by beach in Speightstown – its a hard life!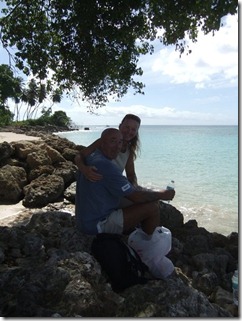 Typical Bajan homes
We have been snorkelling around the boat cleaning the bottom as well as in the marine reserve area a short distance from the boat which has a couple of wrecks which all the fish love so its great to snorkel over and see all the different types, there are meant to be turtles there too but we haven't seen any yet.
We really don't know when we are leaving or where we are going next at the moment we are happy here so plan to stay a while longer. .
---