Off to the Guadiana River

Innamorata
Steve & Carol
Tue 23 Nov 2021 14:27
37:13.40N 007:24.92W
We left Lucy and Simon in Culatra and headed East to the Guadiana River, after a couple of hours of motoring the wind filled in and we had a lovely sail trying to judge our speed to arrive at the mouth of the river at the right time to be able to safely get over the sand bar, we needn't have worried too much as the least depth we saw under the keel was 2 meters. We made our way up past Vila Real De Santo Antonio on the Portuguese side of the river and Ayamonte on the Spanish side and anchored in a shallow spot before the bridge that joins the 2 countries by road, the next bridge over the river is about 40 km upriver.
Lovely tranquil anchorage below the bridge.
The following morning we waited just after low water to head on under the bridge and ride the tide upstream to Alcoutim, about 17 miles up river. The bridge is reported to be 18m tall but there aren't any markings on it so it was a bit stressful approaching it - bridges always look far too low for the masts to go under and having the air clearance marked on it like the bridges of the intercostal waterways on east coat USA is nicely reassuring, just knowing in theory we go under isn't so reassuring and I really wasn't sure as we approached, again no need to worry as we had probably at least a meter above the top of our VHF arial (which we have pinged on bridges in the past). Once through the bridge we enjoyed the scenery and made our way up river to Alcoutim, its a popular wintering spot for yachts and many return here every year, indeed some get there and appear not to ever leave! There are a couple of boats up at Alcoutim we met in 2017 and who we are looking forward to catching up with. There are quite a few places to anchor on the way and it would have been nice to come up a bit earlier in the year as now the days are short and its a bit chilly! Along the banks of the river there are a handful of lived in properties, a few abandoned Finkas, a couple of villages and plenty of orange, olive almond and pomegranate trees. We were expecting the anchorage at Alcoutim to be crowded and were pleasantly surprised to find a large area just south of the two villages with plenty of space.
Alcoutim on Portuguese side of the river and opposite it Sanlucar de Guadiana.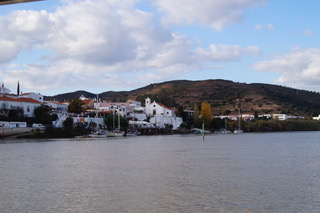 ---