Bonaire part 2 - road trips and more.

Innamorata
Steve & Carol
Thu 9 Aug 2018 17:24
We have both been doing a few boat jobs since arriving – I eventually managed to get the dinghy chaps finished and on the dinghy, not perfect but I was reasonably happy with how they turned out, have also made a few other shades etc to keep the sun out. I gave Sanne a sewing lesson – they needed a new zipper in their sail cover and she had never used a machine before, she is a fast learner and sewed the new zip all by herself after some instruction as well as re-sewing most of the seams.
We were lucky enough to be invited to spend a day out with Sara and Joan (our friends from yacht Tangeroa) who had hired a pickup truck we met them near one of the docks and loaded the back with dive gear before setting off to the Washington Slagbaai National park in the north of the island, there is a $25 entrance fee to the park, as we had already purchased Marine Park tags to enable us to dive in Bonaire Marine park the entrance is free. The park covers the north of the island, it was set up in 1969 and comprises of 14,000 acres of land from 2 former plantations. You need a pickup or a jeep as the roads are bumpy tracks which would soon destroy the suspension of a normal car.
The island is quite barren with cactus plants growing in abundance – it's like something from an old cowboy movie, when it was a plantation it produced goat meat, salt, wood and charcoal for export, Bonaire was never fertile enough to grow sugar, cocoa, coffee and spices like the plantations of the windward islands.
There are 2 routes in the park – we drove around the long route stopping on the way a few times. The park is home to many birds and reptiles including -parrots, parakeets, flamingos and iguanas. Everywhere you stop there are lizards and iguanas, they especially like to hang out at the dive sites in the hope of getting the odd scrap of food, you have to be careful before you drive off as they like to shelter under the vehicles.
The Malmok lighthouse ruin stands on the most northern tip of the island, it was built in the 19th century but never lit! The coast is rugged, there are massive boulders said to have been randomly deposited on the land by tsunamis.
We did a dive at Wayaka – (dive pictures are on last blog) and then headed on to Slachbaai bay which used to be one of Bonaires two main ports. we stopped to eat our sandwiches, we could see Flamingos in the distance – you aren't allowed too close and most of the pictures I took were blurred!
After eating we headed back to Kralendijk via Rincon – the old capital and only other town on the island, apart from a distillery where they make Cadushy from the cactus there isn't much there, we stopped on route for a beer before getting back to the boats at the end of a great day out.
We had another road trip – this time with our friends Rik and Sanne from Incentive, this time we headed south – first stop a shop to buy some carrots and apples then on to the donkey sanctuary – donkeys were introduced to the island by the Spaniards in the 1600's to provide hard labour on the salt flats, once they were made superfluous by modern transport they were released into the wild, however the donkeys didn't do well, many died from starvation, dehydration, illness or fell victim to human abuse and road traffic accidents, as there has not ever been any new stock since the 1600's there are also problems from interbreeding including jaw deformities and mental issues. in 1993 2 Dutch nationals began a donkey sanctuary, they took in donkeys that were in need of help providing food water and medical care, once at the sanctuary the donkeys are not released back into the wild they are left to live out their days in the big sanctuary park. When we arrived we didn't really know what to expect we were met by a lady who works there who explained that there are about 700 donkeys at the sanctuary and that they take in about 5 more every week mainly from traffic accidents, all males are castrated to prevent further increase in the numbers – there are wild stallions still – about 200 of the wild males have been castrated but some left to ensure the population doesn't become extinct, just reduced to a manageable number, we were explained about how to drive around the enclosure and what to expect. We paid the $8 entry fee and first went to the area they call the Intensive care area – here new arrivals, pregnant and new mums, ill or damaged donkeys are kept until they are able to join the others.
Here we also encountered Micky – he was abused by men before he come to the sanctuary and has a great dislike for them – kicked Steve as well as chased Rik, (his wounds were from a fall he had in the sanctuary) Sanne has a great video of this rather grumpy fellow.
Next we got in the car to drive around the large enclosure where most of the 700 donkeys live, we were warned not to stop and feed the donkeys near the entrance as they mob you and make it very hard for other vehicles to get in! This truck hadn't got very far!
Immediately we were surrounded by donkeys – they surround the car and press their noses to the windows, if you open a window you get as many donkey heads into the car as they can fit – they are all Soooooooooo sweet and gentle although they vie with each other for a good position, as we move on slowly they trot next to the car – noses pressed as close as that can get – it's highly amusing and we had a great laugh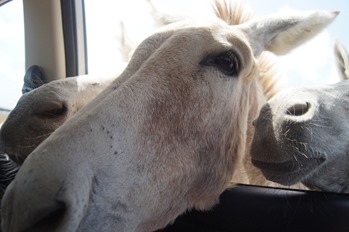 The area is barren like most of the island, there are lots of shelters like this one donated by the UK donkey Sanctuary and there are hay troughs scattered around. Every morning all the donkeys go to a feeding area, if a donkey fails to go it is investigated to ensure that its not ill or injured.
Steve and Rik stayed in the car while Sanne and myself got out to feed and pet the donkeys
Enough but not all the donkey were interested in us.
There is a lookout tower you can climb to view the whole area.
All in all a great experience – even the boys enjoyed themselves and the donkeys were sad to see us leave!
Next we headed towards the Salt flats, they vary in colour but are predominantly pink,
Salt loading dock, no ship today.
Next stop – slave huts – yes these really were built to house slaves – up to 6 slaves slept in these tiny boxes – originally they had thatched roofs, they have been restored minus the thatch, it's appalling to think that it was considered OK to treat people is this way!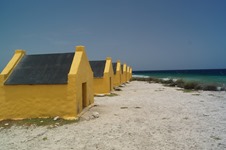 From there we headed along the coast road and found our fist flamingo of the day and made a few stops along the East coast which is covered with driftwood and rubbish – people have made monuments all along the road.
After getting depressed about the rubbish it was time for a late lunch stop at Lac bay, a shallow bay popular for the wind surfing before carrying on and heading back to the boats.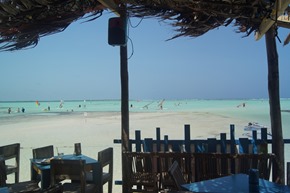 The next day we set off again this time we headed north along the west coast, great views, geology and road signs!
We stopped at 1000 steps dive site – in reality it only something like 68 steps but if you dive here it feels like 1000 steps when you carry your gear back up after the dive, its a pretty little beach though.
Continuing north we got to Lake Gotomeer –by far the prettiest part of the island with its pink flamingos and scenery.
Cactus is used to make fences like the one below – these are seen all over the island, cactus being the prolific plant on the island
Some of the wild donkeys we spotted during our travels
---