Portimao again

Innamorata
Steve & Carol
Sat 30 Sep 2017 12:25
37:06.85N 008:31.379W
We spent 5 days at Alvor exploring the town, socialising and relaxing, I borrowed a kayak from another boat and went for a paddle which was fun – I want one!
The channel in Alvor is fairly narrow – this boat misjudged where to anchor and at low water was a little high and dry!
We had to get back to Portimao to collect a replacement wind generator which was due to arrive Tuesday so set off for the short trip back. We anchored close to where we were before, there weren't so many boats here but some familiar faces still. Steve checked the parcel tracking and found that it was delivered yesterday – Friday how annoying as we will have to wait until Monday to pick it up!
We went into Portimao – there is a Decathlon shop a couple kilometres walk and I wanted to look at kayaks, we also found a shop that sells Waitrose and Iceland produce – We got a couple of bits including sausages for Steve.
We realised how blind we have been – there are actually crane nests everywhere, in the last photo there are 6 nests!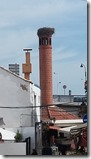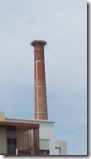 On Monday Steve collected the replacement wind generator motor – we were disappointed as emails from company said a new one was on it's way and what turned up was a reconditioned one in a poor state! (We had only put ours up in June and didn't use straight away) after a couple more conversations and a video call to show poor condition connections etc the company agreed to ship another one to us – so still no wind power!
---