West Holandes

Innamorata
Steve & Carol
Sun 17 Feb 2019 22:43
09:30.44N 78:47.66W
We had a good sail up to meet Stu and Steph and anchored next to them in the middle of the islands. We had a couple of nice days snorkelling and visiting some of the nearby popular anchorages - the hot tub and the swimming pool. By dinghy on one snorkel outing we spent a while watching a spotted eagle ray hunt for fish or crustaceans, he didn't mind us being there which was cool. We also both had a try with Stu and Stephs very long free diving fins which were amazing, a few flicks of the legs and you travel so much further – maybe we will spash out and get some!
Stu and Steph heading off for a snorkel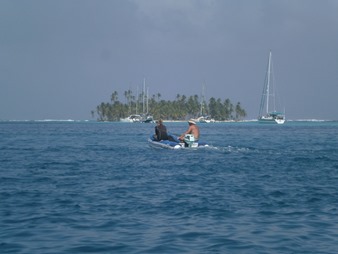 I made a starboard side cockpit sun shade with mesh we can use to keep the sun off white at anchor or sailing - I've been meaning to make them for ages so was glad to have at least one done. On the 21st we helped Tom from Honey Ryder celebrate his birthday on board Steinar and Janne's catamaran Numa - I think there were comfortably 22 people on board with still a lot of space for more - cats are such a great space for socialising, Stu, Steph, Tom and Sabrina provided great entertainment playing instruments singing, Jeff did a couple of songs as well - it was an excellent evening which everyone enjoyed.
Photos were taken by Di.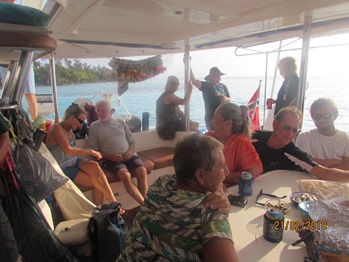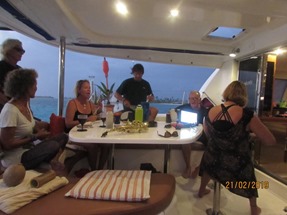 ---