Porto Palo

Innamorata
Steve & Carol
Mon 13 Jun 2022 16:29
37:34.438N 012:54.72E
After looking at the weather we decided to leave Trapani and get along the south coast, it looked like there should be good wind today then very little for a few days before it comes back further along the south coast, so we took the outboard off the dinghy etc and said goodbye to Adriana and Endeavour who were staying put for a day of so! With just Mizzen and Genoa we began sailing as we left the harbour and had a slow sail down the west coast of Sicily before we picked up a very helpful current and the wind increased, at times we were flying along at over 7 knots which made a nice change, as the day progressed the wind increased and the current decreased, at one headland a happy kitesurfer gave us a surf by shouting Ciao to us!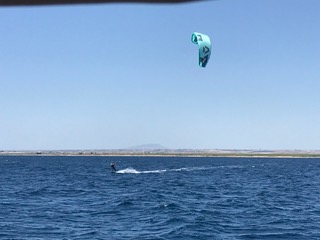 At the next headland the wind picked up and there were a lot mote kite and windsurfers enjoying the breeze, by this time we were reefing the genoa 😂.
We got to Porto Palo and anchored to the east of the harbour, which was nicely protected from the swell and the wind which was northwesterly and died down by the time we had covered the sails etc and eaten supper. We had the anchorage to ourselves, the town was small but the beach seemed quite popular but the properties weren't high-rise and to the east the view was lovely. We had a very peaceful nights sleep despite the music from a bar on the beach!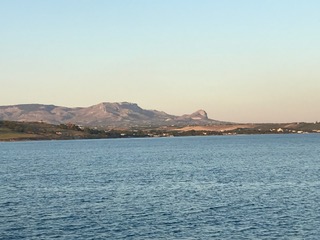 ---