Trip to the Les Cayes on the mainland. Haiti

Innamorata
Steve & Carol
Sat 16 Feb 2013 17:56
A few days after we arrived a Ile a Vache some friends we met in Barbados, Mike and Claire on Siga Siga arrived (we had knew they were coming here on there way to Cuba and it was one of the reasons we chose this route south). The day after that arrived we went with them and Denis and Pam off Glide to Les Cayes on the mainland for a walk around ant to visit the market there. We had arranged to get a boat across which was no problem and on the way we passed a few local boats.
However, when you get to the mainland it is on a lee shore and so the boat anchors and a smaller boat collects the passengers and you are punted to near the shore where there are a handful of men in the water to carry everyone to the shore – Quite an experience.
Las Cayes from the sea
Mike being carried ashore.
Everyone gets the same treatment
Les Cayes is a busy town where many buildings and roads appear to be only half finished, it is also a poor town where water is still collected from standpipes in the street.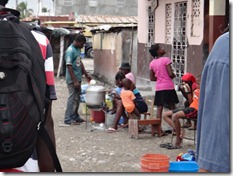 The market was colourful with some nice produce.
Local boats loading up, the men wade out in the filthy water carrying bags on their shoulders.
And then there was our trip back to Ile a Vache – by now the wind and sea had got up a little so when we got into the boat a tarp was pulled over everyone to keep us dry, not that it did!
Another boat having its tarp pulled over this is their every day transport nothing fancy laid on for tourists here.
---