Road Town, Tortola, BVI's.

Innamorata
Steve & Carol
Mon 1 Apr 2013 00:24
18:25.48N 064:35.32W
Despite the weather I had a great Birthday, it was grey and overcast all day and we went ashore in the afternoon for a beach BBQ, on cue it began to pour with rain so we all ended up going to Outsider for the BBQ and had a great time.
It was wet and windy during the night, with the wind and swell coming from the NE so it got a bit bounce as well, come the morning we all decided to leave, Outsider, Wyuna and ourselves went over to Road town on Tortola which is a very protected spot.
As the weather was set to windy and grey for a couple of days we decided to hire a car – which ended up being 2 cars, the 6 seater hadnt been returned and we went on a tour of the island, we had a fun day with a few stop on the way round, of course we had to stop at the rum factory, Bruce and Gina hadn't been there before, Steve and Ian wanted more supplies, this time there was sugar cane waiting to be crushed to make the rum and the machinery had obviously been used since we were there before.
Our transport for the day
Wendy, Ian, Bruce, Gina and Steve.
Despite the colour of the sky there were some pretty views on the way around the island
and some great wall art.
We made a few stops on the way to look at the shell museum which was really just collection of local beach finds made into hangings and ornaments, we owner took us on a tour then upstairs and insisted we played some music with him!
and for a drink at a beach bar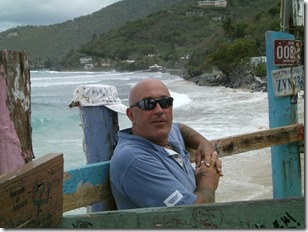 ---