Horta, Faial, Azores

Innamorata
Steve & Carol
Mon 10 Jun 2013 09:04
Innamorata on the reception/fuel berth at Horta marina.
Moved back and with 2 boats rafted up to us, we spent a few days like this before being given a better berth.
On the outside of a bigger boat and sheltered from the swell, with Pico in the background.
Not everyone gets in from the Caribbean in one piece, not sure how this yacht lost its mast.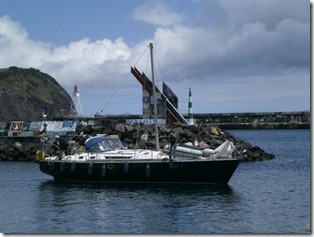 Horta is very busy and we have been having a great time meeting people, some we knew before and others we didn't. We were invited on board Por Dos who we last saw in the USA for an Ocean cruising club drink.
Enjoying a coffee at a local bar on one of the nicer days.
Mark and Karen from Vaiva arrived a couple of days after us and we have been having fun with them, we went on a whale watching trip and saw some Sperm whales.
And some photos taken by the whale watching boats crew.

Pico, it's not often we have had a glimpse of the top of the island its usually lost in cloud
Horta has for a long time been a stopping place for yachts heading to Europe and the med from the Caribbean USA etc. and it's a tradition to paint your boat name here on the wall or pavement, its said to be bad luck not to paint a picture so of course we had to do one too.
we saw some paintings from boats we have met, though Muskrat was a previous owner.
We found a spot on a vertical wall as the paintings seem to last longer than on the ground us and Steve started to paint., he had designed our logo on route.
Day 2 of painting
Our cheeky friends on Vaiva thought it would be fun to borrow our spot!!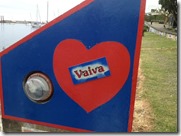 The finished picture
---