Christmas Cove

Innamorata
Steve & Carol
Mon 20 Jan 2020 21:43
We spent a few days at Christmas cove, one evening we were on Endless Summer when Steve and Marcel saw a fire ball falling from the sky - by the time the rest of us looked in the right direction all that was left was a smoke trail, we speculated that it was a meteor but none of us had ever seen one in daylight, we also joked that it could also of been a North Korean missile off course! Soon the US coastguarde were putting out a pan pan having received information about a flare sighting (it definitely wasn't a flare). Later we found out that it had been seen from Puerto Rico, USVI, BVI and as far away as Trinidad and Tabago, none of us were fast enough but some clever person took this picture.
We did a couple of dives, due to the swell outside the bay we could only get to one site in the dinghies so we did a couple of dives at the same site which was good with lots of colour and fish, on the first dive we saw an octopus as well.
Octopus making a get away.
Porcupinefish - (a type of puffer fish)with its coral munching bright teeth/gums.
Mantis shrimp
Yellowtail Damsel fish
Flamingo tongue seaslug
Nassau Grouper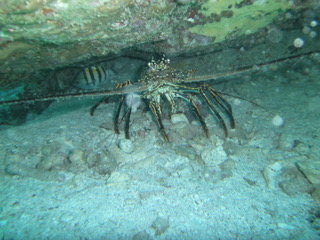 Its not all socialising and play we did do a few boat jobs while were there like engine oil change and as we were on a mooring we took the opportunity to service the windlass, We also took the opportunity to clean the bottom of the boat - it wasn't very dirty just needed a wipe over in most places and a few baby barnicle's removed from the keel which pleased the bar jacks (fish) who were hanging around, we also had a stingray come and rest underneath the boat while we cleaned and a turtle grazed nearby as well.
---