Gibraltar 1

Innamorata
Steve & Carol
Tue 1 Mar 2022 10:22
We spent 3 months in Gibraltar, we weren't at all impressed with Queensway Quay Marina, the pontoons were neglected and the mooring cleats so rusty they chomped through ropes in a few days so we ended up using shackles on the ends of the lines! We were aware that there is a swell problem sometimes but weren't expecting it to be so frequently and quite so bad especially with an easterly wind we had thought the marina would be protected by the land mass! The whole pontoon surged back and forth causing horrible jolts, we purchased rope snubbers which helped to dampen the jolts a little but It was still pretty awful at times, the only bonus being it was fairly sheltered from wind though and we were glad to be there rather than Marina Bay!
We were also disappointed to find out how hard it is to get anything! We did get a new larger solar panel for the stern but only because it was in stock and I had to bring the supports for it back from the UK - I flew back to UK for a couple of weeks to see family while Steve stayed on the boat! The shops also run out of goods and there seems to be a very long delay in restocking shelves in the chandleries as well as the supermarkets - due to a combination of Brexit/Covid/UkraineWar and Lorry drivers being stopped at the border by Spanish protestors as well as officials! That said it was a welcome to be able to buy British goods, restock with things like teabags, baked beans etc.
We made some new friends - Iain and Tania on the catamaran Serina, Kieth and Pauline who live there and who we enjoyed some fun evenings with and who helped Steve get his covid booster when my efforts and numerous emails, phone call all failed to get anywhere (I got my booster back in UK) they also gave Steve a guided tour of the Rock while I was in the UK so he could then be my tour guide for subsequent visits. Steve found out that we could get a Gibraltar heritage card which allowed free access to the rock, tunnels, caves as well as museums and got a family card while I was in UK as at £13 person entry fee we weren't going to visit it more than once but the card paid for itself in one visit so we enjoyed a few trips up it.
Not long after we arrived we chose a rather grey day to walk around Gibraltar. Initially we were just going to the southern point but by then the sun was out and for some reason we decided to carry on around along the very boring Mediterranean side!
As you walk you can really see the side of the rock is riddled with tunnel holes!
Our first walk up the rock was to the Great Siege tunnels which overlook the now airport and Spain - the Great siege was a failed attempt by Spain and France to capture Gibraltar from the British from June 1779 - February 1783! The guns have a commanding varntage points over the thin strip of land towards Spain, set in solid rock and it would have been pretty hard to get past them!
We also walked up towards the caves to see the monkeys, there were some good views on route
The Barbary Macaques sit admiring the view while posing for photos, a rather foolish young couple drove to a picnic area and therefore a monkey hotspot - got out their car and went for a walk with their little dog! of course the macaques had a field day with the aerial, windscreen wipers and window seals 🙄🤣, we then headed down the steps in photo above to one of the feeding areas - the macaques also run up and down the steps and wall and apparently it can be quite intimidating if they are charging around! They are also known to steal sunglasses, bags etc so we put anything they could snatch inside a backpack when we were in the vicinity of them - it's also advisable not to eat when they are around!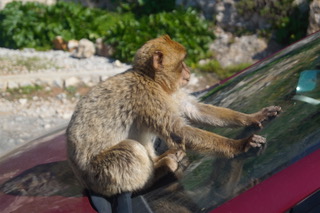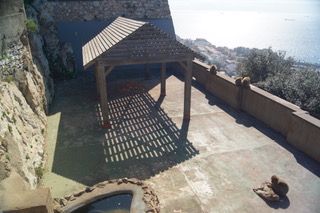 There are between 230 and 300 (depending where you get the info) Macaques who live in troops /family groups and no one seems certain how they got there - they are the only free monkeys in europe! Occasionally they leave the rock and raid areas of the town below, they also frequent the rubbish tip on the Mediterranean side of the Rock!
---