San Andres

Innamorata
Steve & Carol
Fri 22 Mar 2019 18:47
San Andres is a Colombian coral island, although politically part of Colombia it has historical ties to the UK. San Andres and the nearby islands of Providencia and Santa Catalina form the department of San Andrés, Providencia and Santa Catalina.
The official languages for these islands are Spanish, English, and Creole - islanders in the south of the island are mainly decendants of freed slaves, speak English and Creole and have the surnames of the original slave British Plantation owners who arrived from Barbados and other Caribbean islands. The north of the island is mainly Spanish speaking due to the influx of Colombians and is now a major holiday destination for Colombians. We were anchored in the north and it was very busy with tourist trip boats and party boats playing loud music which sums San Andres up, it's a touristic party island, it's also a tax free island so there are plenty of shops most of which sell exactly the same stuff as the next one however rum, beer and wine are a good price and we found a few treats as well.
I have to say the water colour here is beautiful, so many shades of blue and turquoise and it's very clear when it's not windy - reminds me of the Bahamas.
We had a great time on the island - we were able to use the Club Nautico to leave our dinghies and go ashore and met here often in the evenings for a drink and chat. We also celebrated 2 rally members birthdays (Grace and Terry) here and had a great night out with a meal and live music.
We did an Island tour with Di and Jeff which was fun - we hired a mule for the day and Di drove us around, the main town is manic, lots of traffic including hundreds of scooters but once you leave the town the
roads were very quiet. we had a great day - stopped at a small hotel in the south of the island for coffee and got talking to the owner who told us a bit about the Creole language and its history, he also showed us some creole writing - recently someone has translated the gospel of St Luke into creole which was really interesting to look at!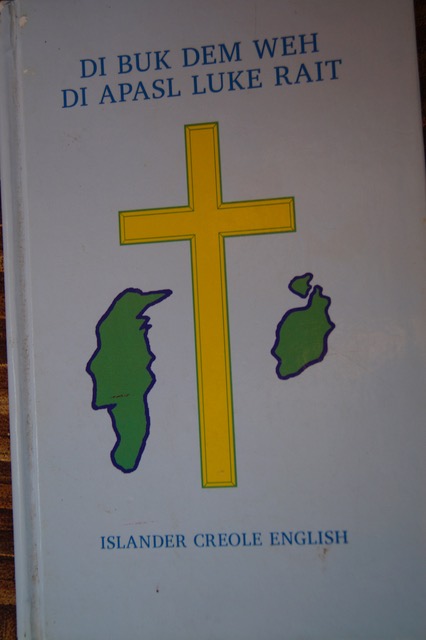 We also visited a museum house showing how people lived in the old days and where there was a reggae dance class - I opted not to join in though!
We also did a dinghy trip out to Cayo El Acuario and Haines cay with Di, Jeff and Steniar, we stopped at a floating bar on route and had a swim and then headed to the Very crowded cays.
We decided to do a shallow dive with some of the group - we headed off in 4 dinghies and dived a sight called the pyramids - it was only 6-7 meters deep but was good fun as we haven't dived for a while.
We were

immediately

surrounded by lots of rather friendly Chub who are obviously

used

to getting fed by divers in this area, I love the second picture - Sabrina

getting

photobombed by one with a smile on its face!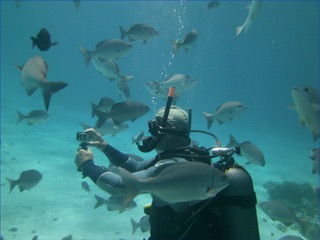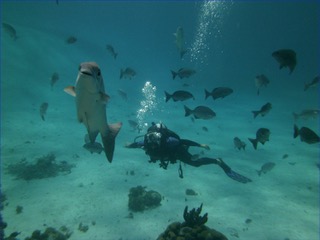 We were however keen to move on to Providencia which we have heard many good things about and lots of cruisers put it at the top of their list of destinations
---