Uvala Parna near Skradin to visit Krka National Park

Innamorata
Steve & Carol
Tue 16 Aug 2022 14:48
After a quick shop to buy some bread we headed off sailing up the Bay of Sibernik, once past the town, muscle, oyster and fish farms lined the banks, some have floating shops where you can stop and buy fresh oysters or muscles if you like - obviously we didn't, Steve's not a shell fish person and of course I'm veggie!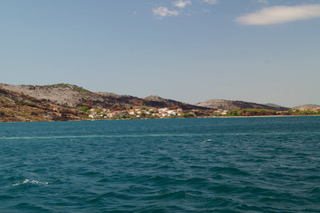 We sailed on under the road bridge and took the narrow windy branch up to Lake Prokljansko, we couldn't sail the whole way and so motored before sailing again once we were on the lake, the scenery changed - on one bank you could see the town of Raslina which had obviously had a recent wind fire lapping at its edges - luckily the town didn't seem to have been damaged but on the hills around there were burned trees and bushes, from the lake we went up the river towards Skradin and stopped in the first anchorage - it's the only place you can still anchor as the ACI marina has stopped any anchoring in the bays nearer the town and the Krka National park! they want you to use the marina just to add to the cost of a visit to the park which is already expensive!
We found a good spot to anchor and launched the dinghy, a couple of hours later Robert and Heather turned up and we went over to theirs for sundowners and to plan visiting the waterfalls.
The following morning we headed up river the 1.5 miles to Skradin, I went ashore to buy tickets which were 420kn (£47.50) while Steve found a secure place to leave the dinghy, we had opted to get a boat from Skradin up the river to the waterfalls as only 10kn each, we caught the 9am boat with Robert and Heather and got to the start of the education trail before it got too busy,
unfortunately we didn't move fast enough and soon it began to get busier, the trail goes around the area passing good view points and places of interest, once off the boat you get your first glimpse of the lower waterfalls, before starting the trail across a bridge, then there's a climb up past the ruins of an old
hydropower plant,
to an island with an old smith shop, watermill, cafe and souvenir shop! Then on via a narrow walkway which got very busy - we ended up having to queue to get a view and take pictures of the waterfalls 🙄😬.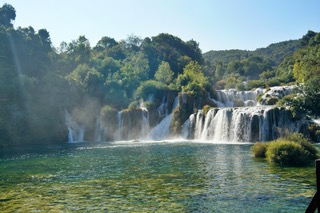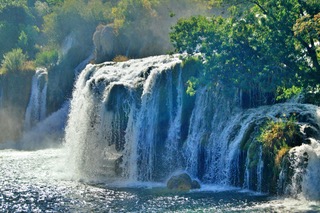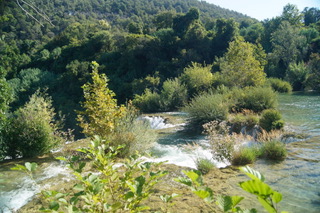 Though not the most impressive waterfalls we have seen, we had a great time - stopped and ate our picnics and decided to walk the 3.5km back to Skradin rather than get another boat, on the walk home we had some lovely views of the river which made it worth the effort!
---