Off to Sicily

Innamorata
Steve & Carol
Tue 21 Jun 2022 18:30
36:50.015N 015:06.523E
We left Malta at just gone 6am and motored out of the harbour, we spotted this really ugly new cruise ship Celebrity Beyond approaching Malta - its horrible with an external frame which when I looked on line is a magic carpet! its a cantilevered floating platform that reaches a height of 13 stores above sea level so people can soar over the open ocean, it had a bar and space for live music! 😱 WHY!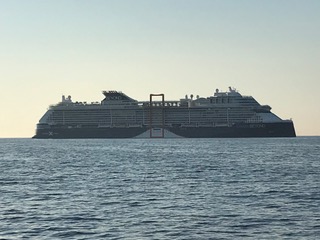 Before too long we were sailing and had a fantastic broad reach sail as the wind increased it continued until after 5 pm when we came into the lea of the east coast of Sicily and we had a funny 20 mins when the wind went from 24knots to 3 knots on the nose so we put the sails away and motored for 20 mins before sailing again on mizzen and genoa for the last 40 mins into an anchorage at Lido Di Noto where we anchored for the night with Adriana.
After anchoring we settled for the night and went to bed quite early - at about 22.40 we were rudely awakened by spotlights and then sirens going off next to us, we realised it was the coast guard, quickly threw some clothes on and then I went on deck, all they did was shine the light at me then go over to Adrian - by this point they were up in their cockpit so they just got lights shone at them and then the boat went away at high speed! They didn't say anything or seem to want to know anything except that we were on board and later we realised that we had turned our AIS off when we anchored and think that they were checking us out to make sure we weren't people smuggling etc maybe?
---