Santa Marta and trips inland.

Innamorata
Steve & Carol
Wed 2 Jan 2019 23:36
We had a great 13 day stay in Santa Marta – it was longer than we would normally spend in a marina, we don't go in them at all usually but for Christmas and New Year it was a nice treat. The marina had an area with a mini market / coffee beer shop which was a great meeting place for everyone and we had a few sun downers there it was also where we had a few social events starting with the marina putting on a greeting event with tapas and fruit cocktails when we arrived – we took the opportunity to get a group photo of everyone, and we had a couple of BBQ's as well.
.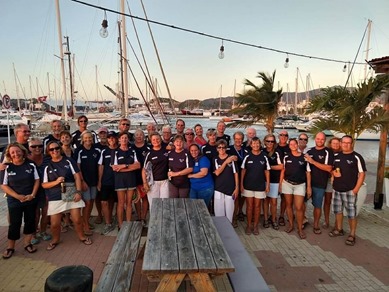 We had high expectations for our visit here and we weren't let down Santa Marta is a colourful, busy, vibrant, noisy place with street vendors, musicians and entertainment We really liked the town although it was a bit overwhelming the first time we went for a walk about, the shops are mainly open fronted and seem to either play music or have someone outside with a microphone trying to lure customers in! There are hundreds of street stalls selling anything and everything, as you wander round there are people mending electrical goods, shops with old fashioned milling machines etc. You get the feeling that if you spoke Spanish you could get anything mended or made or a replacement made here. As with everywhere there is always a down side and Santa Marta is no different, I think what I noticed the most was the state of the pavements, there are lumps bumps, holes and obstacles everywhere you really have to look where you step all the time which distracts from what's going on around you!
We soon hit the town and found a great little road where a street band was setting up play, so we stopped and had a few drinks while we were entertained by The Funky Band – four guys who play guitar, bass, violin and drum – excellent music and a very unique sound with the violin, great evening and although we didn't go out in a big crowd a lot of us seemed to have all found the same place!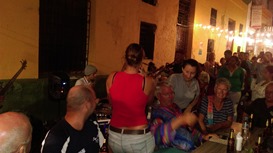 Christmas Eve morning I went with Fiona, Steve (not my Steve), Leo and Ronda to take some donated goods to a charity called Fundehumac which is a community foundation which helps victims of violence through art. As Rally members we had been asked to make donations and many of us contributed something. When we arrived we were greeted by some of the children and my hands were immediately grasped by Helena and her friend Sophia! First we had some speeches and a music show put on for us – Helena took over clapping for me! then we were invited to paint part of a room with the children, I painted some leaves and the iguanas feet

.
I made the mistake of letting some of the children take pictures with my camera! they all loved looking at the pictures they had taken or that were taken of them, there were some very cute children!
After the painting we had a play
Then we were taken upstairs where the children helped us make dream catchers – (with a little adult help)
they then had a raffle where Leo won a big dream catcher and I won a boat made by the children, before we were each presented with our dream catchers by children who made little speeches before a final group photo.
In the evening we had a pot luck BBQ before we hit the town.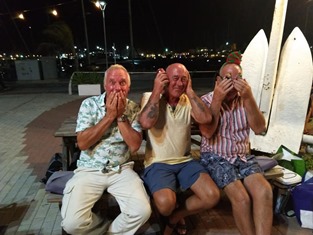 After Christmas we went on a trip with Di and Geoff to Minca.
We booked a hostel for one night and set off by taxi at about 8.30 in the morning, when we got to Minca we found the hostel and dropped our bags off before taking a hike to some waterfalls, the walk was mainly along a mud road and there were lots of motorbikes and minibus vans hurtling up and down so not very pretty scenery and not much wild life, you could see Santa Marta in the distance though.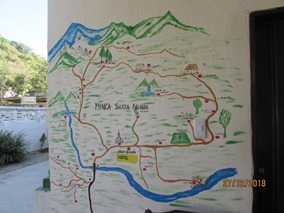 As we have found with most waterfalls, they were a let down, it was quite crowded so we didn't stay for long, the water was cold and it was lovely to soak your feet in for a few minutes to cool them down – Geoff was the only one brave enough to get right in!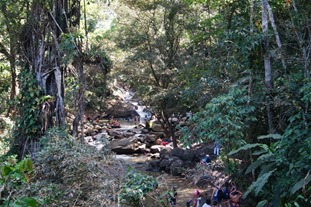 On the way back we stopped at a bar for a drink – cool place with great views over Santa Marta.
Relaxing at the hostel – actually I think they were waiting for me!
The next day went for another walk – this time to a coffee and Chocolate farm, it was a 3.5k hike up hill the whole way – I did manage to hitch a lift with a local for bit of the way up as I had run out of steam, however the road ended and the last 10 – 15 minutes had to be done on foot, it was a prettier walk than the one before – we love the clothes lines!
At the farm there was a friendly Tucan who quite liked to have his picture taken!
Once there we found we had missed the coffee tour so we waited for the cocoa tour, while we were waiting Sabrina and Tom turned up so they did the tour with Di and me. Its a small farm which supplies coffee and chocolate for the local area to be sold mainly to tourists.
We had a little demonstration of roasting and grinding the cocoa beans, were made fresh hot chocolate and got to eat and wear some chocolate!
We were treated to chocolate coffee and honey face mask, look stupid but tasted good and made the skin feel nice and soft.
Then we had the walk back – at least it was down hill almost all the way!
Once back in the town we picked our bags up and headed back to our boats.
The day after we were back from Minca we headed off again this time to Calabazo and Tayrona national park in the Sierra Nevada Mountains, this time there were 12 of us and we had booked another hostel, some chose to go by bus others by cab – we took a cab with Di and Geoff – they are cheap and saved walking to the bus station.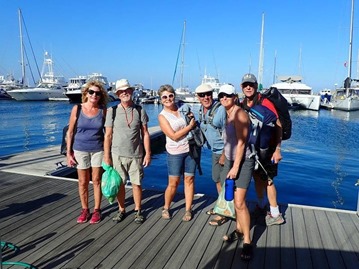 Once there we walked to the park entrance to enquire about horse rides to Pablito however we were too late to get tickets that day and so arranged to go back in the morning.
After a swim in the Hostel pool and relaxing afternoon we went out for a meal afterwards I was feeling unwell so went to bed – the following day I had a migraine so we didn't do the trip – we came back to the boat.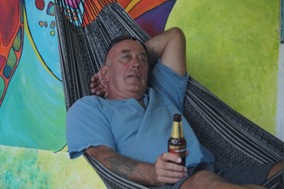 ---