Puerto de Pollenca

Innamorata
Steve & Carol
Wed 18 May 2022 12:57
39:54.264N 003:05.596E
After a very peaceful night on our own we upped anchor and headed off to Pollenca, as we reached the Cabo Formentor the fog rolled in, at times it was very thick others we got glimpses of the coast line but didn't get to see much until we approached Pollenca where the fog lifted.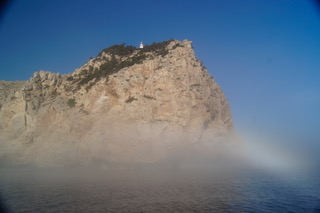 Puerto de Pollenca has a big anchorage, a lot of which is taken up by moorings but it was easy to spot a sandy patch to anchor in. It's not particularly pretty but there is a good dock where it's easy to leave the dinghy so we went a shore a few times to explore a bit and get a few provisions. The day after we arrived Rockhopper arrived and anchored nearby closely followed by some of their friends they haven't seen for a few months.
As usual we are getting itchy feet and there is a weather window to get to Menorca so we have decided to get over there while we can.
Puerto Pollenca anchorage
---