Culatra revisited

Innamorata
Steve & Carol
Mon 15 Nov 2021 14:34
36:59.953N 007:50.495
We decided to head west towards the Guadiana with Falkor and stopped for a few days at Culatra, the weather wasn't as good as during our last visit, we only went ashore on Culatra a couple of times. This time we did take the dinghy up into Olhao to explore the town with Lucy and Simon, Olhao is much like the other towns in that the old town was rather shabby with narrow cobbled roads and tiled properties! Portugal is still a poor country and there are many poorly maintained properties!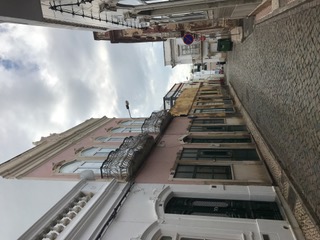 These are fronts of tiny shabby homes!
Like Portimao it had a large sardine canning industry and we found some murals depicting the way things were done.
Of course there are the stork / crane nests here as well!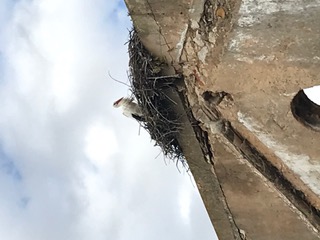 I had to make a return trip to Olhao when this time it was me that needed to visit a dentist! I had a partial crown come loose so phoned a dental clinic on Saturday and managed to get an appointment for Monday afternoon, the weather was good so I took the lunch time ferry (cost all of €1.86) and wandered around for a couple of hours before my appointment, I was seen on time and a very nice lady dentist took off the loose crown cleaned and re glued it down for far less than I was expecting it to be 😁! I really don't understand why it's so hard to get a dentist appointment in the UK and why they charge so much 🤔 certainly from our experience here it's easy to get an appointment and the dentists are efficient and inexpensive, the ones we have visited both spoke good English as well! After the dentist Steve came over in the Dinghy to collect me as the next ferry was still not for a couple of hours (they do run more frequently during the summer months) while I waited I could see him making his way over in the dinghy being flung around by the wind and waves and at one point it looked like he was going to be flipped over!
---