Gibraltar

Innamorata
Steve & Carol
Mon 10 Jan 2022 12:46
36:08.133N 005:21.359W
After our final early start for a while we were on our way heading south on the tide, the wind was a bit fickle to begin with but by the time we got to Tarifa we had the predicted westerly wind as well as the tide and current all taking us towards Gibraltar at a great speed, as the wind increased with the current we were trundling along nicely. The current stayed with us until we approached Gibraltar.
Turbulent water at Tarifa
Gibraltar without its usual cloud above it.
We headed straight to the fuel dock to fill up with the cheapest fuel around, we paid £0.72/lt which is about half the price of Portugal, before heading back to Queensway Quay Marina where we have a berth until April +/- depending on the weather at the time. It's been a while since we med moored - last time was probably 2005! But Steve got Innamorata into her spot despite the crosswind and confusing instructions from the marina staff who told us berth was D28 on Southern side of the pontoon! As we headed for southern side he proceeded to wave frantically and shout " NO south side along here"! I had to I point out he was directing us to the North side of pontoon before he realised his mistake🙄🤔. We quickly had passerelle set up and were settling into our new home for a while by 2pm.
Our arrival was perfect timing as the forecast for the following day was strong Easterly winds which will be blowing out of the med for the next 2-3 weeks at least according to the long range forecast!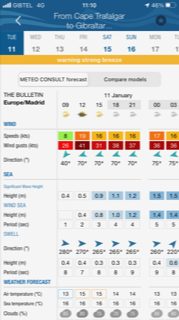 ---