Matthew Town, Great Inagua

Innamorata
Steve & Carol
Wed 11 Mar 2020 15:34
We stayed in Matthew town for 5 days while a cold front passed over, the dock wasn't as bad as I had first thought but the ropes were pretty noisy at times with the ropes stretching and snatching in the surge!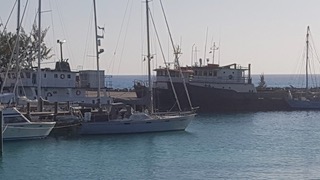 The day we arrived we noticed one of the other boats - a German boat called Slowly had a problem with their Genoa which was down, it needed mending and Jorg was trying to hand sew it on the dock, I could see that he would be there for days trying to do it by hand so volunteered to get my machine out and repair it for him the next day before the bad weather arrived. The repair took a couple of hours and they were very grateful and happy giving me some fresh coffee and sweets as a thank you. There were also a couple of Haitian boats in the harbour, they bring goods here to go on the mailboat to Nassau - not that I am too sure what Haiti has to export? we were told that they had off loaded some energy drinks but not sure what else, the boats are basic wooden boats with make do masts and booms, they load them up with anything and everything to take back to Haiti - old fridges, mattresses, wood, windows, old electrical goods, old oil barrels, wood pallets. Steve got talking to a couple of them one day and helped them download windy weather app onto a phone - they didn't know weather apps exist, he showed a navigation app on his phone - they don't have any navigational equipment or charts etc on board so were quite excited about it but Steve couldn't find open CPN on their phone at the app store - he did however decide to donate our old hand held chart plotter to them and sort out a cigarette lighter fitting for them to charge it through (they do have a solar panel and a couple of old car batteries to run it off) and we sorted through and found some clothes we don't wear to give them to add to their booty.
,
One of the boats leaving for a night sail to Haiti - they quant out of the harbour as no engine - you have to admire them!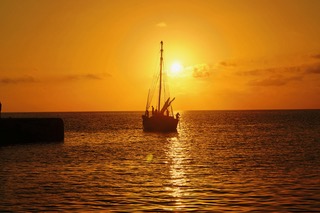 We spent the next couple of days mainly on the boat keeping out of the rain, in-between the showers and wind we did go into town and visit the BTC shop for a data sim. We had planned to do some exploring after the front passed but life had other plans! First the BTC phone data chip we had got wouldn't work properly - we were unable to use it as a hot spot 🤔 Steve went back to the shop twice and spoke to customer services a couple of times none of which helped at all! We decided to try it in another phone and moved it from Steves into mine - low and behold we can use the hotspot - no idea why though. Bonus was seeing this little pair of burrowing owls next to their burrow on our way to the shop.
Next our fridge / freezer stopped working and although the freezer part is small it was full of meat for Steve, a lot of which had defrosted by the time I noticed it wasn't working 😡, the rest I managed to salvage and keep frozen against the cold plate in the other fridge - we spent a day trying to sort it out - well to be honest Steve spent the day sorting it out, he has some gauges so he put them and monitored what was happening for a while, added a bit of gas / let some out and monitored again for a while until it seemed to be working better and we crossed our fingers that it wasn't a blockage or need to be evacuated and refilled as we don't have the equipment to do that, anyway for now it seems to be working OK. Next Steves iPad just died! It tells you to log on to iTunes to register it like it was new! Some googling etc and it may well be dead but there is the possibility it can be salvaged if we have better internet service so maybe when we get somewhere we will be able to resurrect it but we aren't holding our breath! So our day to go visit the lighthouse and do some exploring was lost as it is time to move on.
---