Old Providence - or as the Colombians call it, Providencia

Innamorata
Steve & Carol
Thu 4 Apr 2019 00:10
13:22.788N 81:22.47W
We set off for Providence with 4 other boats and motor sailed the whole way - the weather forecast was the same all week so the boats that followed mostly motor sailed although a few got an hour or so of sailing in, we were pleased to see a lot of the group 1 boats were still here when we arrived, we found a space to anchor near the front of the anchorage and no sooner had we stopped then we heard that everyone was going ashore for a meeting so we decided to go get the information on the next destination and take the opportunity to catch up with our friends on Two Drifters, Mojito, Tourterelle, Bushpoint, Spray, Island Kea, Supertramp, Bushpoint who were all going to head off for Honduras in the morning. We got some good information on things to do, diving, horse riding etc.
The next day all group 1 left - as there are 30 boats they split into 4 groups to sail in to Honduras, as it's an area where pirate attacks have happened everyone is being cautious.
It was Ladies day / mothers day on Providencia so there was a big party in the town square with a couple of bands, we headed into town to join in the festivities - there were tables and chairs set out in-front of the stage and we sat down to watch and enjoy, first there was a traditional band playing local instruments which included rather strangely a horses jaw bone! the next band were a regge band and 4 group 1 rally members got on stage to perform with them which was fun - while this was going on locals were serving plates of free food to anyone who wanted it - I declined but those who ate it said it was good, a little later all the ladies (including us visitors) were presented a pink towel as a women day gift, what a lovely generous community this is!
Group 1 left for the Honduras Bay islands the following morning which was Steves Birthday - having enjoyed last night and started to celebrate his birthday from 7pm which was midnight in the UK and therefore his birthday we had a quiet day, all the rest of group 2 except Mora and Numa arrived from San Andres and so in the evening we all went ashore for drinks at a bar which has been adopted by the rally, some friends in Group 1 - Fergus from Two drifters, Ken from Lady Rebel and Ian from Spary all very kindly gave me their remaining Colombian Pesos to buy drinks for everyone - Thank you
😘🍻😘
.
Over the next days we did some exploring - went horse riding with Di, Jeff, Sanne and Rik, it was Steves first time on a horse and it was great fun, the horses were well behaved and everyone had a great time, he even got to canter a few times, it was cheap too we got picked up and dropped back at the town dinghy dock and had a good 3 hour ride all for the equivalent of £12.50 each!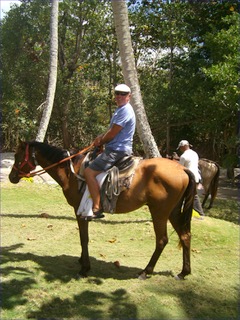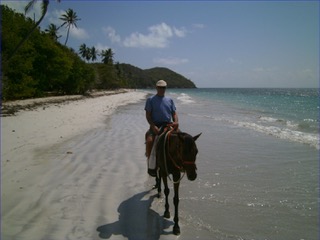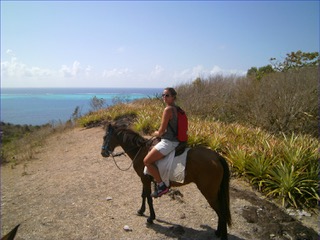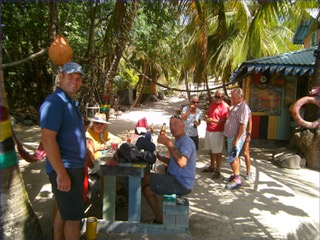 We did a couple of dives as a big group of 14 with Sonny's dive centre, also good fun - some of the group even saw a Hammerhead shark but as we were at the front of the group at that time we missed it - we did see reef sharks a ray, a few Morey eals swimming out in the open and the typical reef fish.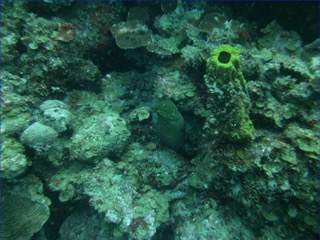 We took a boat trip to Crab island to snorkel there (everyone had to wear fetching buoyancy aids- saw 2 turtles who clearly didn't mind humans watching them feed, a large grey triggerfish and an octopus who spent quite a long time moving around doing its thing and changing colour to blend into the background - hence its hard to see in the pictures
🤣
.
Gorgeous view from the top of the island.
We spent an evening at the Lighthouse theatre seeing some short films about the islands history - Creole Language, the Black crab, local life and traditional Rondon cooking.
For my birthday we had a bit of a party in town - Mr Bush the agent here we had to use to check in and out of the island arranged for us to have a bit of a welcome party - we had a display of local traditional dancing, dancing and music - not really my thing but fun, there were 3 prizes of a visit to the islands only Spa - I got one for my Birthday, Di and Jeff won one for their dancing and Tom and Sabrina got the other one. We went to the spa with Di and Jeff the day before we left Providence, first we had a jacuzzi and a drink - a glass of wine each was included in the prize so the others had wine while I opted for cucumber water, we then had a sauna which the boys weren't keen on so left Di and myself to relax in it and got in the jacuzzi at which point the heavens opened!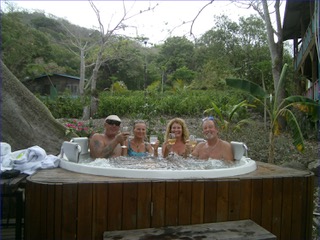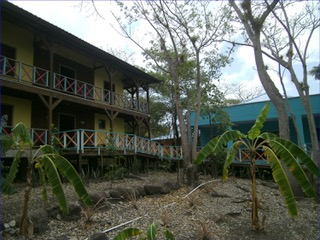 Steve and Jeff in the rain
After Providence some boats are going their own way, Mora and Incentive are heading to the Cayman Islands and then Cuba and Bebe is heading south to Bocas Del Torro and Panama - so we had to have a farewell party, before the party we went ashore and gave Sabrina our net controller a small gift as a thank you and took a group picture to thank Suzanne the rally organiser.
Steinar and Janne on Numa kindly said we could party on their boat - little did they realise how much alcohol would be consumed! It was however a brilliant evening thoroughly enjoyed by all even if some of the party goers cant remember too much, luckily I had my camera so was able to remind them - a couple of people needed escorting back to their boats for their own safety and one person had a little dip when she missed getting into her dinghy!
It's amazing, easily everyone fitted
onto the front of Numa for our group Photo!
Di and Jeff Sharon and Chris Sabrina and Sanne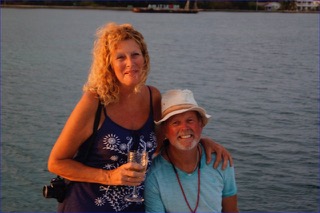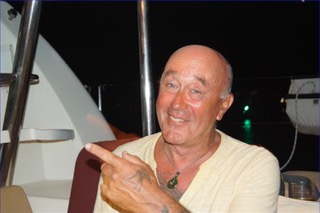 Two boats left Providence 2 days ahead of the rest of us as we are behind the schedule they needed to go ahead and make up time. The rest of us checked out and got our Zarpe's on the Wednesday 3rd April and had 24 hours to leave the island so set sail the following morning at first light - possibly not the best forecast - the different models didn't all agree and wind speed predictions varied by about 10 knots, they all agreed that there would be strong winds of 25-30 knots in the Bay islands on Saturday and Sunday nights though so something for us to bare in mind when timing our arrival!
Some pictures from the lovely island of
Katlina (Catalina)a small island next to Providence and where we left our dinghy when we went ashore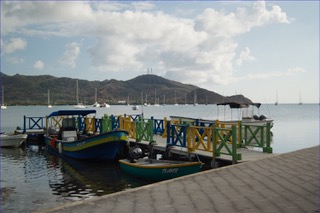 ---