Bequeve photos

Innamorata
Steve & Carol
Tue 19 Jun 2018 15:46
The anchorage at Bequeve wasn't very well protected from the sea rolling in from the SE and we had to anchor a little way from the shore as the water is shallow and there didn't seem to be a way in closer to the land although it looks like there used to be from the old pilot book we have. The anchorage has the islands of Bequeve and Elbert Cay to the NE, then a coral reef and the island of Cayo De Agua to the south and further west - West Cay, we initially wanted to anchor off Cayo De Agua as it is a very pretty spot with a narrow sand spit between it and West Cay - it's stunning in the photos, however the weather wasn't going to allow us to anchor there so we picked our way into Bequeve and Elbert Cay which are now joined as one island. Both are pretty islands with colonies of various birds. As with all these islands the water was turquoise and there was a lovely long sandy beach to explored.
At either end of the beach you come upon nesting birds and their young, the adults didn't like us getting too close, especially the terns who would dive bomb us when we entered their territory.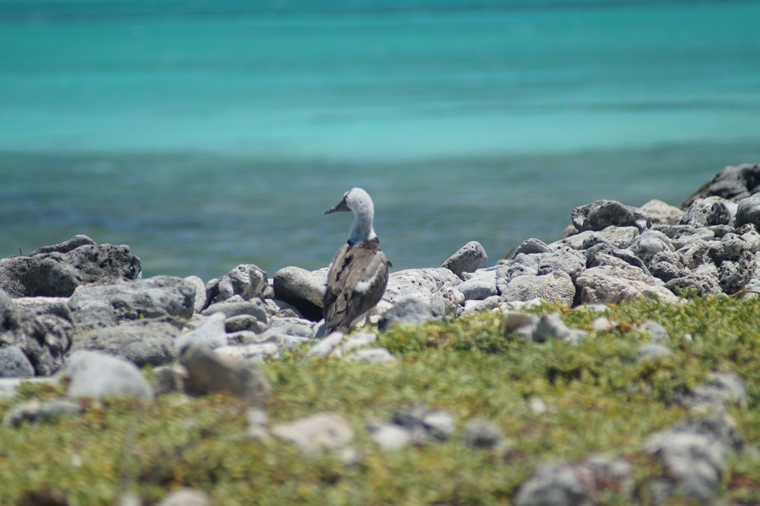 We also came across some pretty crabs:
These islands are uninhabited and sadly like everywhere else in the world there is plastic, glass, fishing debris washed up on the shore, it's amazing how many shoes find their way to distant shores! Sanne and I collected some which we took back to our respective boats to take on to Bonaire where hopefully they are good at rubbish disposal!
Just before we left the anchorage to sail to Bonaire a local fishing boat came in with 3 people on board - they approached Incentive and asked if they wanted a lobster, which they didn't, so the fishermen left to go to the shore, as they looked poor, Rik felt guilty and so he had Steve went ashore to buy the loster and give them beer and a few tins of veg - the lobster was obviously lunch as it was already cooking on a fire! The men were however delighted with the beer and food. A little while later they came over to ask if we had any spare spark plugs - sadly we didn't have any to match the one they showed us. Fishermen tend to go around with hats on and scarves over their mouths - they almost all dress in this way maybe as protection from the sun? It is easy to see why some people may fine this threatening though, this was them as they approached and after they had asked for spark plug the older man held up what looked like a ray they had caught and were very happy with!
Goodbye Los Roques, till next time, we have loved our visit to these beautiful unspoilt Islands.
---