Sail to Oranjestad, Aruba

Innamorata
Steve & Carol
Sun 9 Dec 2018 00:44
12:30.55N 70:02.017W

Firstly here's a picture of us sailing yesterday with the wind pilot - we didn't use it today as we need to get a tensioner for the lines which go to the wheel.
Yippee we have left Curacao. Individual boats had decided when they wanted to leave, a few of had left during the night and there were still 5 or 6 boats anchored when we left just before 5am - about the same time as Rik and Sanne and set off for Aruba, ahead we could see the lights of 4 of the boats who had left little earlier. It was a rather uncomfortable rolly downwind sail most of the way to Aruba, we haven't yet replaced the pole we broke on the Atlantic crossing we had to use our tiny spare one and so could only have a very small Genoa! We still had a good fast sail and it it got even better when we were sailing in the protected waters along the south west coast of Aruba. We were lucky to be visited by a family of bottlenose dolphins at a rather inopportune time as we were busy putting the pole away, there were about 12 -15 of them with a few really quite large ones and the rest various sizes down to babies ❤️, they stayed for a little while though by the time I was taking pictures they had stopped jumping and performing and as usual I didnt get any decent pictures .🐬
By the time we were approaching Oranjestad there were 8 or 9 other sailing boats in view - some (not all) transmit AIS and show on our plotter.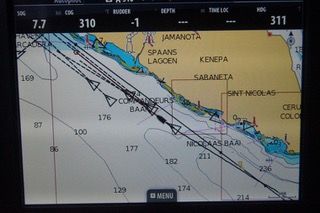 Once we arrived in Aruba yachts have to ask permission to enter the harbour and get directed to the cruise ship terminal to moor and check into customs and immigration, its not set up to receive yachts at all - its a concert dock with tyres suspended on chains from metal loops in the concrete and has large widely spaced ship bollards to tie to. It was quite windy still when we arrived and there were 8 boats moored already - 6 from the rally and 2 others who were rafted side by side, I have been told by Nev off Two Drifters the there was a small section of dock without the big tyres on and that bit is much more yacht friendly than the rest! As luck would have it he two rafted boats left that spot and we were able to moor on it with the help of Sam from Wanderlust and Leo form Schloss Ort who kindly took some lines for us.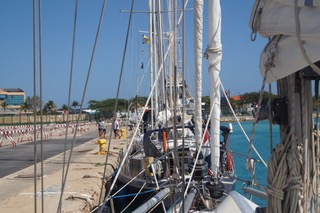 Check in was quick and easy - we were able to leave after 40 minutes and proceed to an anchorage nearby - its called the airport anchorage basically because its at the end of the airport runway so its nice and quiet 🤣, airplanes and loud music from the shore!
---