Charleston. South Carolina.

Innamorata
Steve & Carol
Thu 21 Jun 2012 01:26
We are having a great time and loving the USA so far, everyone very friendly and its cheaper than anywhere we've been for a while. We are meeting lots of American boats heading north as well so hopefully we will see them again on our travels. Charleston is full of history and old buildings, its where the first shot of the civil war was meant to be fired. The houses are just as you would imagine very colonial.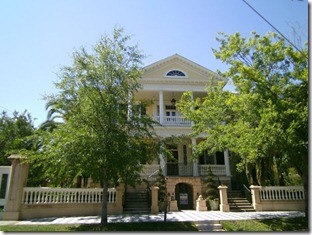 A lot of the properties have verandas and balconies with the front doors on the veranda at the side of the house.
Its such a small world, when we got to Charleston we got an email from a couple, Chris and Gill, who used to live next door to Steve's brother in the UK and moved here 17 years ago, (Steve's brother Ian had read our blog and contacted them) and though we had never met them before they met up with us and treated us to an in car tour, took us to do some shopping, took us for lunch and showed us their home which was really nice of them, we had a great day and hope to see them again on our way south later in the year.
There is so much to see but we haven't managed to fit so much as a museum in, too busy visiting the local chandlers, sorting out internet etc and socialising. All the big shops such as Best Buy, WalMart etc are in Malls out of town so you either have to get a bus or walk a fair distance, we did both and guess what the first bus we got on broke down a couple of minutes later, no one complained though they just apologised to us for the bad impression they thought we were getting of their country! Luckily there are a couple of supermarkets in town and a free trolley bus that runs around the centre and down to the water near where we go ashore so provisioning wasn't too difficult, it does take a long time to go any where though due to the distances. People here are kind and friendly, for example yesterday when we were walking to the chandlers a nice lady called Barbara stopped and asked us where we were going then gave us a lift (which was out of her way), she had seen us arrive by dinghy and was just showing some southern friendliness. I have also managed to get some more cylinders for my Soda stream so I can once again have an abundance of fizzy drinks with out the cans to dispose of.
Every thing on the boat seems Ok now, I gave the fuel tank a bit of a clean before we filled up with diesel, its only $1 a litre here so not bad. Steve's back has got better so hopefully our next trip won't be so troublesome.
---