Start of a new adventure.

Innamorata
Steve & Carol
Wed 2 Aug 2017 20:55
50:38.80N 001:56.06W
01/08/2017 We left Brighton at 6 am to set off with friends Helen and Jayne for our next sailing adventure, we are planning to sail back across Atlantic to the Caribbean again this winter. Friends Ray, Teresa, Mark, Bruce, Alex and Paul all got up early to come and wave us off.
Headed west to Osborne bay where we anchored for a while until after looking at the latest weather forecast we decided to catch the tide to Studland Bay before southerly blow and rain sets in tomorrow.
Innamorata has had a paint job since our last posts and is now looking much smarter and younger with grey hull and canvas work as well as new hull windows.
Lovely view from cockpit of some poor folk on a sailing school boat which sailed around the anchorage all morning in the wind and rain.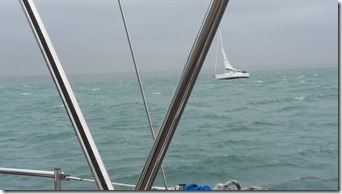 ---