Tintipan, San Bernardo.

Innamorata
Steve & Carol
Fri 18 Jan 2019 15:51
09:47.30N 75:50.55W
We had a slow steady Crusing chute and mizzen sail the 25 miles from Isla Grande to Tintipan and anchored about half way along the south coast, its a pretty island with private properties along the shore.
We were soon greeted by the Armarda National who wanted to look at everyones passports, boat papers and Zarpe, they were very pleasant but spoke no English after visiting all the boats they moored on a nearby private dock and sat in an open building at the end of the dock.
The following day we visited the nearby island of El Islote which is the most densely populated location in Colombia, its also placed high up in the world ranking, with its 1,200 inhabitants living in 120 square yards. The island was built out of shells on shallow waters and its 97 houses are lined back to back along the narrow alleys. The settlement was founded 200 years ago by a group of Barú residents who came across the islet while in search of new fishing grounds and discovered with joy that a constant breeze kept mosquitoes away. All its inhabitants bear the same eight original family names. There is no running water and the only source of artificial light comes from a generator which works five hours a day. In spite of the very limited space available, the friendly islanders have managed to build a couple of grocery stores, a school, a health centre and an Evangelical church, and they would not change their home town for anything, it was quite an experience - I can't say I would like to live there!
The islanders seem to keep fish in tanks on the edge the island - probably to eat later!
We could see some properties near Tintipan which were built on stilts and decided to go and have a look,
apparently at least one is a hostel which was full of young backpackers.
We headed back to the boat and went for a snorkel before having a group gathering in dinghies near the shore for a drink before dark - we had asked a local if we could go ashore and were told the the hand was private and we couldn't land so chose to sit in our dinghies tied to one of the docks.
Our second day was my mothers Birthday - I did manage to phone her to wish her a very happy birthday phone reception is very hit and miss the signal is very intermittent and seems to be better later in the day - as we are 5 hours behind the UK it meant I didn't manage to call till late! For us it was a chore day - we made water, I did the laundry and tried a different bread roll recipe - which was Very disappointing more like rocks than rolls! Later we snorkelled and wiped the underside of the boat again - already there was some green slime growth to remove!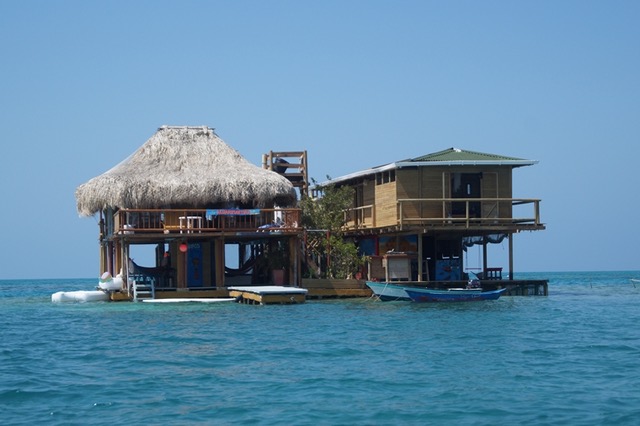 ---