Godöysund and cruising friends

South Pacific Familyadventure 2008
Claes Brodin
Tue 20 Jul 2021 20:11
After some days in Haugesund with pcr tests,visiting the old recidence of Harald Fairhair (the first king of a united Norway during late viking era),we crossed over the Hardangerfiord and spent some days anchored in Lykelsöya.

Mercedes has many cruisingfriends both from real life as well as from Facebook and after contact with Svein and his wife Kari we decided to meet and have dinner together in Godöysund just some hours south of Bergen.

Svein is an officer in the Norwegian navy and met Mercedes in Ferrol where he was working for the Norwegian navy building frigates by the Spanish naval shipyard in Ferrol.

Racing the same sailboat together in Galicia they have been in contact ever since.

Now we met in Godöysund and had drink and dinner onboard Dora Mac. Later in the evening a Dutch boat with a young couple just starting their circumnavigation tied up alongside Dora Mac. Of course they were invited onboard and we had one of these spontaneous great evenings which is common among cruisers.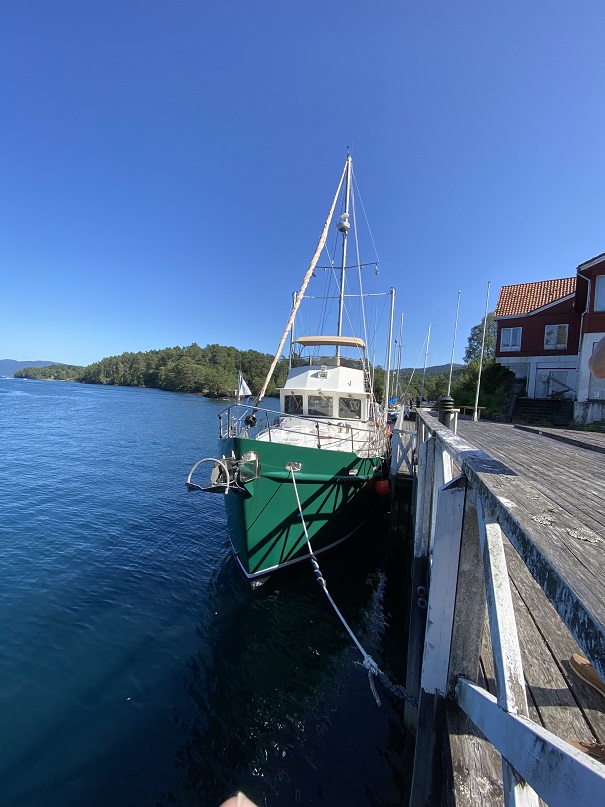 ---