Naxos Port

South Pacific Familyadventure 2008
Claes Brodin
Sat 14 May 2016 18:25
In this region there are three major ports/marinas. Parikia and Naousa in Paros and Naxos port.
Parikia is not at all as nice as Naousa on Paros and also quite exposed in strong winds from southwest. Allthough better managed with a port captain,electricity and water I would only go to Parikia if there are strong winds(6 Beaufort or more) from the north in which case Naousa is to exposed to swell from the whole Aegeian Sea.
Naxos port is quite different to Naousa being a commercial port with loads of ferries and fishing boats.Allthough not at all as tranquile as Naousa, Naxos port is not without charm.Cafeterias,shops and tavernas are scattered along the quayside and the arcitecture has a Venetian influence. It´s well protected (allthough it can be rough in strong southwesterlies if anchored in the outer part of the harbour),it has electricity,water and a marina office. There are mooring lines in the inner part of the harbour or anchor stern to (not forbidden). In our pilot (Rod Heikell) there´s tel number to "Nick" the port captain and VHF ch 69 is advised. We never had any answer on neither and getting a berth is "take what you get". The ferries do create quite a swell during daytime also in the inner part of the harbour.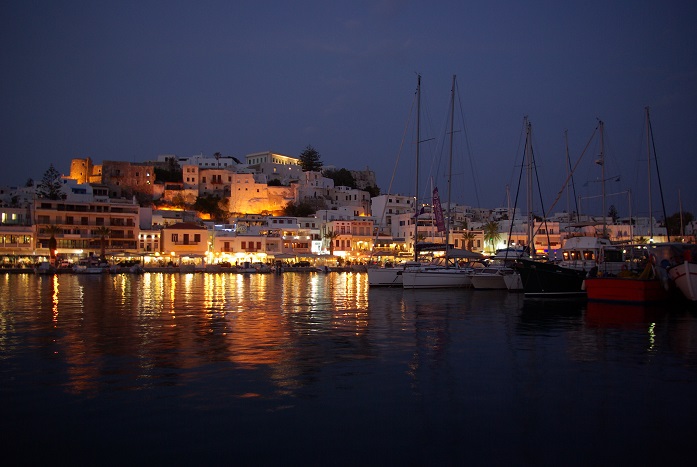 ---