....and then a hurricane

South Pacific Familyadventure 2008
Claes Brodin
Thu 1 Oct 2020 22:51
Only two days after the storm another deep low with remnants from hurricane Sally approached northern Norway reaching Lofoten in the afternoon.
When I came down to the marina where Dora Mac is moored the whole area was a surrealistic inferno.Windspeed was 78kts (39m/s) with the whole fjord surrounding the marina covered by oceanspray torn up by the wind reducing visibility. Walking out on the pier to Dora Mac was a challenge not to be thrown over by the wind and once on Dora Mac I had to take care of canvas ripped apart by the wind and replace broken mooringlines.
It would have been interesting to have photographs from the inferno but once in the middle of it,taking pictures is the last thing you think of. Winds of hurricaneforce remained until midnight,and allthough the average windspeed was around 70-80kts the mountains around the marina create a "tunneleffect" enforcing southwesterly winds and my boatneighbour measured winds gusting up to 120kts(60m/s) !?
According to Norwegian met office this was the strongest winds in the area in 50 years and allthough Dora Mac was moored to the dock,she has now been "hurricanetested".
Except for some broken mooringlines,canvas ripped to pieces and a broken windinstrument,she managed fine.
Only a couple of days later the fjord was like a mirror enlighted by northern light.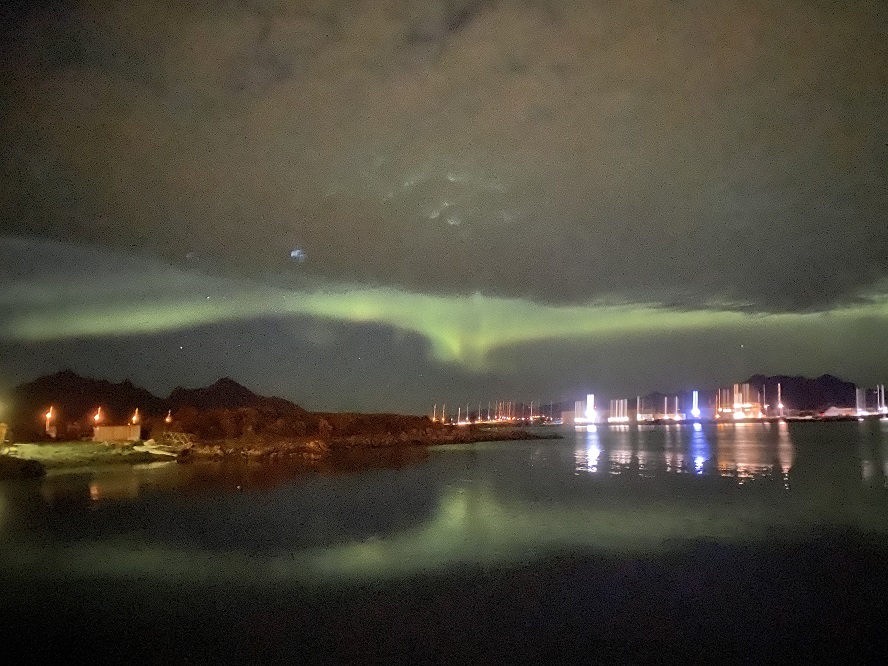 ---