Strong tides and dogs in the U.K

South Pacific Familyadventure 2008
Claes Brodin
Mon 6 Jun 2022 12:43
The passage from Honfleur to Guernsey was a 130Nm passage with a reasonably good weatherwindow (risk of fog outside Cherbourgh and heavy swell in Alderney Race).If we anticipate heavy traffic,fog or other demanding circumstances during a passage the one off whatch sleeps in the pilothouse
Approaching the Channel Islands from whatever direction you will encounter some of the strongest tides on the planet especially passing through Alderney Race (between Alderney and French mainland) which makes studying of tide tables and tidal stream atlases essential. Preferrably navigating these waters should be in or close to neap tide and Alderney Race not passed in gale winds.
We reached Alderney Race two hours after schedule which meant slack waters and reasonable waves but a strong countercurrent when approaching Guernsey..
Since the Channel Islands are part of the U.K the very restrictive rules regarding dogs from foreign port are applied here as well. Q-flag and immidiate contact with immigration is mandatory and the main question is if the dog has to be placed in quarantinelocality supplied by the authorities,or remain in quarantine onboard your own ship.
In our case responsible veterinarian came onboard Dora Mac some hours after landfall and after checking microchip,passport and vaccination documents he prescribed an antiworm pill to be administrated by a licensed veterinarian from the island. 24hrs after that, Bianca was free to go ashore !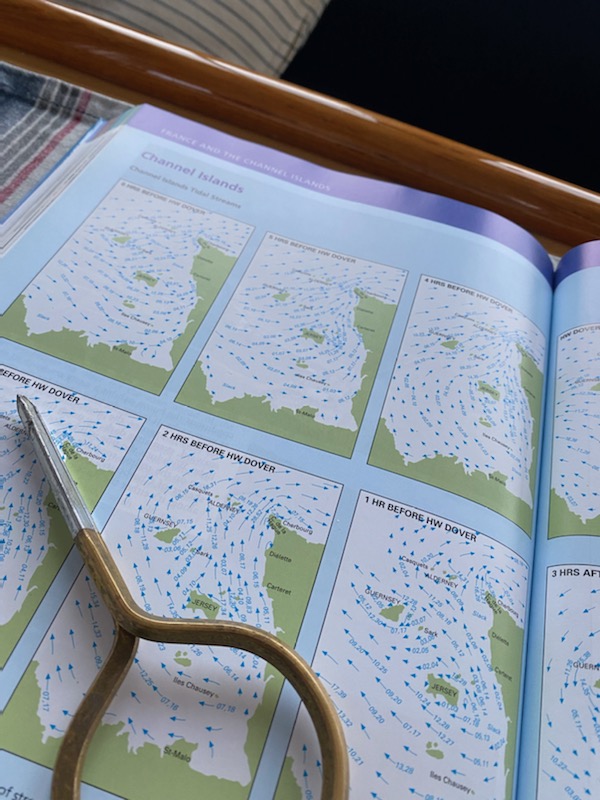 ---