Stavanger - Kvitsøy (part 1 of 2 for today)

Nano's blog.
Nigel Anderson
Wed 22 Aug 2007 12:38
Date: 22-08-07     Time: 11:40 UTC      Position: 59:03.64N  005:24.13E   Name: Kvitsøy 


Jeg går til det noe uvanlige skrittet av å skrive dagens blogg i to deler. Midt på dagen har vi kommet til Kvitsøy utenfor Stavanger og her er det så vakkert at det fortjener å bli merket på kartet, samt at det er WiFi i havnen her og jeg har lyst å legge ut flere bilder. Del to vil komme fra Skudeneshavn litt senere på dagen.
I går var det som gamle dager i Karibia - vi var sammen med "Dream Catcher" og "Seven" på en bedre middag på restauranten "Bevare meg vel" som hadde utsøkt mat i en høyere prisklasse enn vi er vant til fra Karibia. Også Bjørn, som var mannskap på Dream Catcher fra Bermuda til England var med - se dagens øverste to bilder. Om bord Nano etterpå kom også Erik fra "Harry Z" sammen med Synnøve og enda senere på kvelden Karin - som seilte med DC og senere med oss i Kanariøyene.
Vi våknet tidlig til en strålende dag, kjøpte ferske bakevarer og dagens avis, og gikk mest for motor til Kvitsøy, et par timer fra Stavanger. Her er det virkelig vakkert - hjulpet sikkert av det strålende været. Vi har gått tur på øya og slapper av før reisen går videre til Skudeneshavn. Se dagens to nederste bilder.
Gutta Alex (Seven), Nigel, Bjørn (DC mannskap) og Fred (DC)
The boys - Alex (Seven), Nigel, Bjørn (crew DC) and Fred (DC)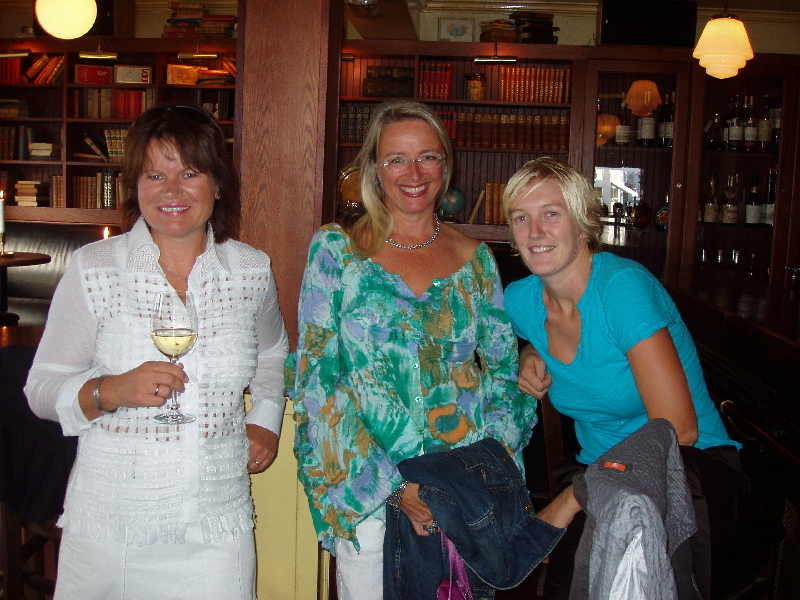 Jentene Anne Grethe (DC), Rønnaug og Ingrid (Seven)
The girls Anne Grete (DC), Rønnaug and Ingrid (Seven)
Nano på Kvitsøya
Nano at Kvitsøya
Kvitsøya
English version
I am taking the rather unusual option of writing today's blog in two parts. Now in the middle of the day we are on the small island group of Kvitsøya, about two hours sail from Stavanger. It is so beautiful here, helped by the perfect summer weather, that the place deserves its own mark on the Google Earth map. As there is free WiFI here too it means I can put in a few extra photos too. Part two will come later in the day.
Last night we went out for dinner with our sailing companions from "Dream Catcher" and "Seven". Bjørn, who sailed with DC from Bermuda to England was also there - see the two upper pictures. On board Nano after dinner we were joined by Eric ("Harry Z") and Synnøve, then after the others had left, also by Karin who sailed with DC, then with us in the Canaries.
We awoke to a perfect day, bought fresh croissants and a paper, then got underway to this wonderful island where we have had a walk round, gone up to the light house, and generally relaxed in the sun. See the two lower pictures.
---