Ile de Yeu

Nano's blog.
Nigel Anderson
Sat 29 Jul 2006 19:37
Date: 29-07-06     Time: 18:00 UTC      Position: dd:mm.mmN  ddd:mm.mmW   Name: Joinville, ile de Yeu 


En hvile dag eller gjøremåls-dag. Rønnaug er fortsatt ikke bra og hun holdte senga til halv elleve. Jeg satte på dekk med PC'en og prøvde litt med kortbølgeradio og WiFi nettverk. Etterhvert ble det en sen frokost. Vi benyttet anledning til å få vasket tøy siden det var et bra vaskeri like i nærheten. Bildet viser at seilelivet ikke bare er å være på sjøen eller ligger i idylliske havner.
Det ble en tur rundt i byen - mange trange gater med kunstner- og tradisjonelle butikker. Koselig. Jeg brukte en del tid til å hjelpe en annen båt med data-utfordringer, og lærte litt selv! Så skulle vi handle mat osv. Det blir fisk (Bouillabaisse) idag - det er et flott fiskemarked her men mange fiskearter vi aldri ser hjemme. Se det andre bilde. Nå er to svensker fra en nabo-båt på vei over for G&T's så jeg må avbryte her.
Washing day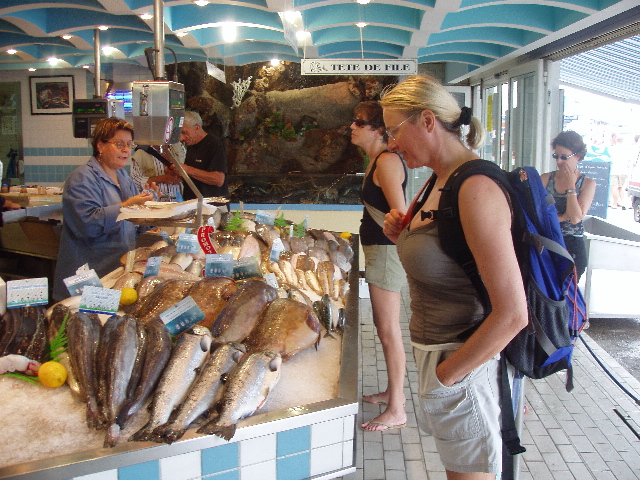 English version
A rest day, or a day of chores if you like. Rønnaug is still not in form, so she slept until ten thirty while I sat up on deck with the PC and worked on getting weather information from the short wave radio. It was a late breakfast by the time we both were up. We utilized the opportunity of having a laundrette nearby to get all our washing done. The upper picture shows that the sailing life isn't only sailing on the blue sea and anchoring in peaceful harbours - chores must be done.
We had a good walk in the town - lots of artist shops, some boat gear shops, plus all the traditional shops one might expect all in a maze of small back streets. I spent some time helping a Swedish guy form a neighbouring boat with some computer issues, learning myself how to use GPRS instead of a fixed phoned internet connection. We had to do some shopping for basics at the supermarket, but fresh fish came from the fantastic fish market, and fresh bread from the boulangerie. Many of the fish here we never see at home. It will be a delightful fish soup (Bouillabaisse) for dinner. We are getting a visit from the Swede and his wife for G&T's now, so I must stop now.
---