Amsterdam

Nano's blog.
Nigel Anderson
Thu 19 Jul 2007 16:51
Date: 19-07-07     Time: 16:00 UTC      Position: 52:22.94N  004:54.40E   Name: Amsterdam 


Nå nærmer vi oss slutten av vårt besøk i Amsterdam - vi kunne lett ha vært her i en uke til tror jeg. I går var det avskjedsmiddag siden både Dream Catcher og Seven dro fra Sixhaven i dag. Det ble japansk mat - som var bra - men til tross for stive priser, så har de ikke skjønt av europeerer liker å få servert maten til alle samtidig. Det gikk over femten minutter fra den første personen fikk maten sin til alle hadde maten på bordet og de kom bare med dårlige begrunnelser istedenfor en beklagelse. Da ble det null i driks. For de som er ute etter en anbefaling om steder å unngå i Amsterdam - heter stedet Kobe (se dagens øverste bilde). Dette til tross hadde vi det kjekt sammen (spesielt jentene - se det midterste bilde). Vi vandret gjennom litt av "Red Light District" - se nederste bilde, før vi tok en øl på pub og reiste tilbake til båtene.
Vi hjalp Dream Catcher komme ut av den utrolige trange plassen de hadde kommet inn i før vi reiste til byen igjen for å være turister. Dagens høydepunkt var besøket til Anne Franks hus der hun og sju andre jøder levde i skjul under krigen. Vi var også innom sex-museet! Det ble ikke tid til en kanal-cruise, så det får vi ha tilgode neste gang vi er i Amsterdam.
På vei til restauranten. (f.v Fred, Rønnaug, Anne Grethe, Nigel)
On the way to the restaurant (from left, Fred, Rønnaug, Anne Grethe, Nigel)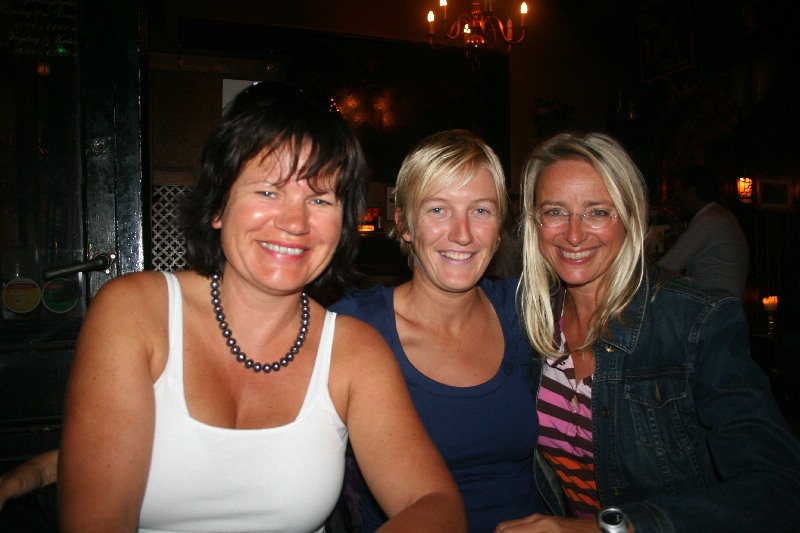 Tre glade jenter. f.v. Anne Grethe, Ingrid og Rønnaug
Three happy girls. From left Anne Grethe, Ingrid og Rønnaug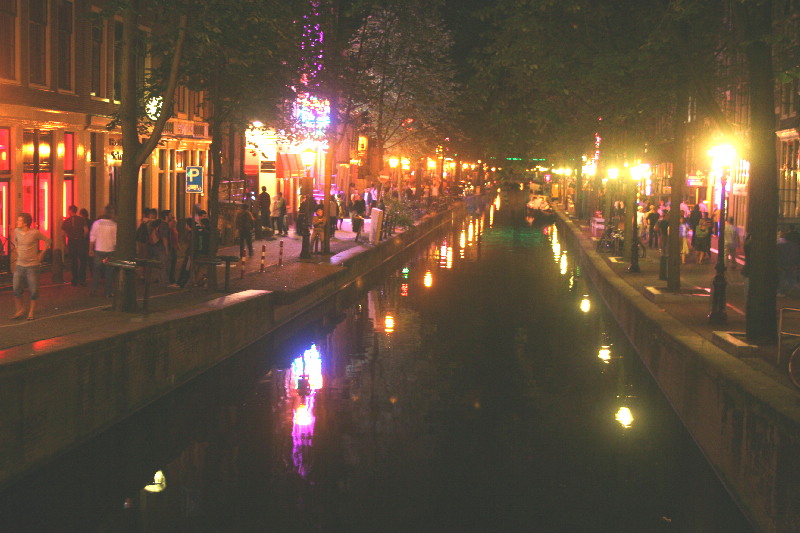 Red Light District.
English version
We are rapidly approaching the end of our stay in Amsterdam - though I feel we could easily spent another week here without getting bored. Yesterday was our good-bye dinner for us, Dream Catcher and Seven who will now not meet again until we are all back in Norway. We chose Japanese food - which was very good though stiffly priced. They had however not understood that Europeans like to have the food served for all the diners in the party at the same time. It took fifteen minutes from the first person was served till all of had our food on the table. Rather than apologizing, they came with lame excuses and thus got zero in tips added to the bill. For those wanting a recommendation for places to avoid then the name was Kobe (see the upper picture). We took a little wander around part of the red light district, (see picture #3), and found a traditional pub for a beer before packing in for the evening.
We helped Dream Catcher get out of the harbour this morning - very tight and awkward to get out of. Our last day of being tourists was highlighted by the visit to Anne Frank's house where she and seven other jews lived in hiding during some of the war years. We also visited the sex-museum! We didn't get time for the obligatory canal-cruise, so we will have to do that next time we are here.
.
---