Philipsburg, Sint Maarten

Nano's blog.
Nigel Anderson
Sun 15 Apr 2007 22:02
Date: 15-04-07 Time: 23:00 UTC Position: 18:01.10N 63:02.73W Name: Philipsburg, Sint Maarten


Inspirert av Anne Grethe og Fred, drog vi på stranda for en løpetur før frokost i dag. Dette må gjøres før sola begynner å varme skikkelig - det blir for varmt etter at klokka har passert halv ti. Det er lenge siden jeg har trenet så mye - ikke minst pga. foten, som nå er bra nok til å løpe litt på mykt underlag. Vi burde vært litt mer aktiv med trening, men det er ikke så lett å bli inspirert på en slik tur som denne.
Jeg klarte endelig å få en WiFi forbindelse til å sende bloggen med i går, men i dag har jeg ikke klart noenting. På land er det derimot flere kaféer som har gratis tilgang for kundene sine, så vi dra nok inn med jolla for å sende dette og rette opp datoen på gårsdagens blog.
Det er egentlig ganske deilig med en planlagt lat dag - ingen planer om å gjøre ting og man blir da ikke skuffet når ingenting blir gjort. Av og til blir jeg lei av å lese og finner noe å pusse, smøre eller rydde. Rønnaug har mye bedre evner til å ta det med ro. Kanskje jeg er begynt å bli rastløs etter å komme i gang med seilasen over havet.
Det kom litt mye dønninger inn i bukten der vi lå for anker, så vi valgte å trekke oss lenger inn mot det nord-østligste hjørne der det er atskillig mer rolig sjø. Her "så" jeg flere WiFi-sendere - inkludert restauranten der vi spiste lunsj i går - og der vi fikk passord siden Fred hadde PC'en sin med seg og skulle oppdatere meldingene sine. Jeg brukte utrolig mye tid på å prøve å koble meg opp - uten å få det til..
Dagens bilde: De spreke etter turen på treningssenteret.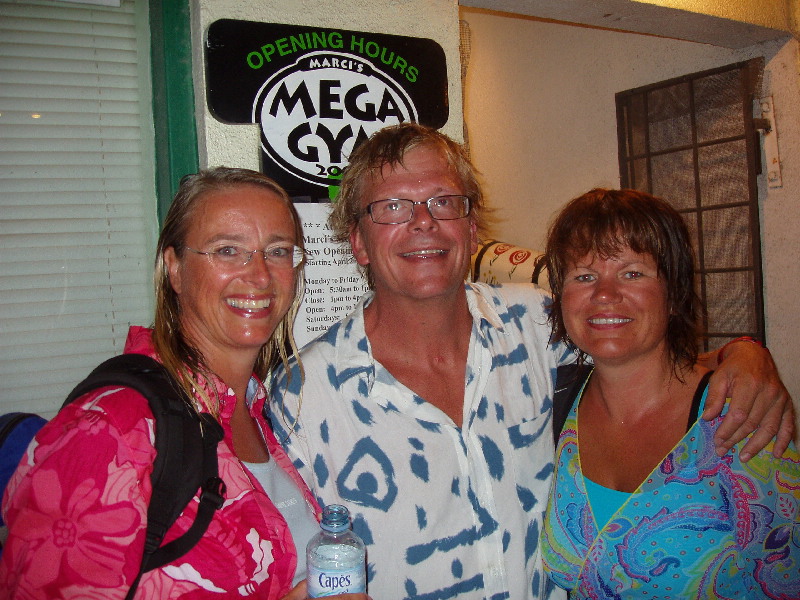 Spreke folk på vei ut fra treningssenteret
Sporty people leaving the training centre.
English version
Inspired by Anne Grethe and Fred we all went for a job on the long beach here at Philipsburg before breakfast. This has to be done early in the moring before the sun starts to heat things up. By none thirty it was too hot for such strenuous activity. It is a while since i have had a run - not least due to my injured foot - however this went pretty well today. We really ought to train more but the heat and this sort of "holiday" does not really inspire one to physical activity.
I finally managed to find a WiFi service that would send the blog yesterday - after a long time trying. However this morning nothing works, so we haven't been able to keep ourselves up to date on the news from home. Ashore many bars have WiFi for their custoemrs, so we will take the PC ashore later in order to send this entry and to correct the date on yesterday's
We have planned to have a lazy day today - which means that we should achieve all our goals. I tend to get a bit restless and need to find something to clean, grease or tidy every now and then. Fortunately there is allways something that needs attention on a boat. Rønnaug seems much more able to relax completely with her magazines and books. Perhaps I am getting restless to get on with the trip back over the ocean.
The swell was making things a bitt rolly at the spot we had chosen to anchor, so we decided to move to the north-east corner of the bay in order to get better shelter from the swells. Here there were lots of new WiFi transmitters, including the restaurant where we ae lunch yesterday. We were given the password yesterday as Fred had his PC with him, but despite spending an hour on the job I failed to make a connection..
Today's picture of three sporty people on the way out of the training studio at Simpson Bay.
---