Port Elizabeth, Bequia

Nano's blog.
Nigel Anderson
Sun 31 Dec 2006 21:04
Date: 31-12-06     Time: 22:00 UTC      Position: 13:00.08N  061.14.58W   Name: Port Elizabeth, Bequia Grenadines


Nyttårsaften! Vi kommer til å feire fem timer etter dere i Norge (og Danmark) og fire timer etter England. Vi får heller skåle litt når dere går inn i det nye året.
I går kveld var vi invitert over til "Dumle" for en nydelig middag av pinnekjøtt. Her fikk vi øl og akevitt til maten og vi kunne endelig runde av julen med norsk julemat. Med oss var Jørn og Eli fra "Silene" og David og Kaylie fra "Steamy Windows". Det var også bra trening for i kveld der vi må holde oss våkne til etter middnatt - noe som er høyst uvanlig for oss. Se dagens øverste bilde.
Vi traff fire amerikanske damer over lunsj i går, og de dukket opp i en liten taxi-båt for å si hallo og dro så inn på stranda. Jeg hentet dem i vår jolla og vi tok en øl sammen og viste dem rundt ombord og pratet om seiling og turen over Atlanteren. De satte veldig pris på å være ombord. Se dagens nederste bilde. Ellers har vi snorklet og tatt livet med knusende ro.
Vi vil med dette ønsker alle våre familier, venner, kollegaer og andre lesere et riktig Godt Nytt År.
Eli, Jørn & Kaylie onboard "Dumle".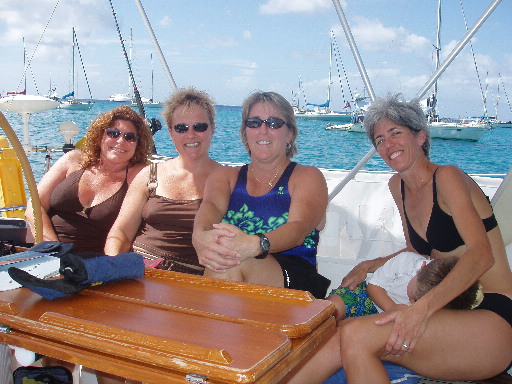 Fire amerikanske damer, f.v. Pam, Tami (Cambridge, Wisconsin), Missy og Kendall (Atlanta). Sønn Morgan sover.
Four American ladies (from left) Pam, Tami ( Cambridge, Wisconsin), Missy and Kendall (Atlanta). Son Morgan sleeping.
English version
New year's eve and we will celebrate for hours after you all in the UK and five hours after Norway. We will at least lift our glasses at the changing of the year in our home countires.
Yesterday evening we were invited over to "Dumle" for a dinner of traditional Norwegian Christmas food - "pinnekjøtt", or re-hydrated salted/dried sheeps' ribs. Sounds not so great but it is actually very nice indeed - served with beer and akevitt. A mulit national evening along with Jørn and Eli from "Silene" and David and Kaylie from "Steamy Windows" (Australians). It was good training for us in staying up late - we left after midnight and we will need to stay awake till well after midnight tonight - something we are just not used to. See today's upper picture.
The four American ladies we met over lunch yesterday turned up in a little water taxi to say hello before going of to the nearby beach. I went over with the dinghy and picked them all up and we came back to the boat for a beer. We talked more about our trip, showed them the boat and some pictures of the dolphins and of Norway. I think they enjoyed their little visit. See today's lower picture.
After that we had a snorkel on the reef and didn't over tax ourselves at all (we leave the over-taxing to the Norwegian Inland Revenue).
We will use the opportunity to wish all our families, friends, colleagues and all other readers a very Happy New Year.
---