Anguilla, Sandy island

Nano's blog.
Nigel Anderson
Wed 18 Apr 2007 22:56
Date: 18-04-07 Time: 22:00 UTC Position: 18:12.03N 063:05.52W Name: Road Bay, Anguilla


Vi hadde vår egen lille karibiske øy til oss selv i dag. Sandy Island ligger en sjømil fra der Nano ligger i Road Bay. På øya er det en liten kafé med overraskende god mat til tross for at det ikke er strøm eller vann på øya. Alt må fraktes ut, sammen med besøkende, på en 17 fot motorbåt. Det var bare oss to som tok båten fra Road Bay i dag, sammen med kapteinen og en dame som hadde ansvar for matserveringen. I den noe uvanlige nordvestlig vinden var bølgene litt større enn vanlig og det ble en noe humpete tur og en noe skummel passering av revet som omkranser øya. Her er det ikke mye å finne på - øya er kanskje 50mx50m med noen få kokospalmer og baren med plass til 20. På grunn av vinden og bølgene var det ikke noe å se da jeg snorklet langs revet. Det var for mye sand og luftbobler i vannet fra de brytende bølgene på revet. Vi leste og solte oss, gikk rundt øya flere ganger, tittet opp i et vrak som ligger der etter orkan Lenny i 1999, og tok livet med ro. Lunsjmenyen var overraskende omfattende og jeg valgte "baby back ribs" og Rønnaug kylling.
Litt senere kom det seks amerikanere fra en utleiebåt - med medbrakt øl. Jeg synes så synd på de to som jobbet der at de måtte klare seg med bare oss to som kunder - det ble neppe noe stort overskudd på dagen for dem - vi betalte US$90 for transport, 4 glass vin, maten og en cola hver. Vi derimot hadde en veldig spesiell dag. Dagens bilder viser Sandy Island.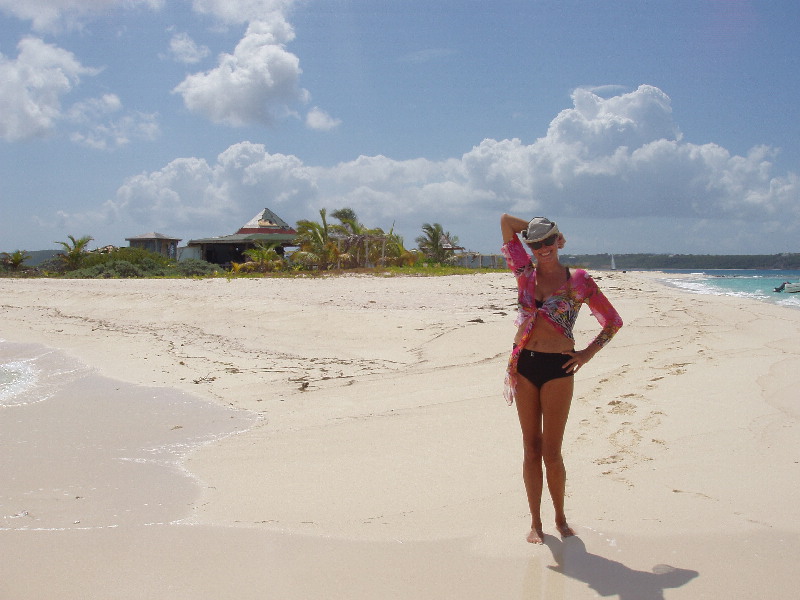 Sandy Island.
Dette vraket havnet her under orkan "Lenny". Alt av verdi er tatt ut av båten, men ingen har tenkt å fjerne de skjemmende restene.
This wreck got washed up during hurricane "Lenny". Everything of value has been taken out of her, but no one seems to want to remove the eyesore.
English version
We had our own little Caribbean island all to ourselves today. Sandy Island is just a mile off the coast from Road Bay where we are at anchor. The island has a little restaurant with a surprisingly comprehensive menu considering the size of the place and the number of guests. The lack of electricity and water doesn't make things easier for them either. Everything has to be carried out to the island on a 17 foot motorboat - together with any visitors. Today there was just the two of us who took the boat over at ten, together with the skipper (and barkeeper) and the cook. With the rather unusual wind from the north west, there was a bit more wave than usual and the ride out to the island was a bit lumpy. The narrow passage through the reef surrounding the island was also a bit hairy - having to time entry to coincide with a wave going in. There is not much to do on the island, which measures about 50x50m, apart from swimming, sunning oneself, walking round the island, climbing on board the wreck washed up during hurricane Lenny in 1999 and eating/drinking in the bar. Although I went out with my mask and flippers, there was too much sand and air bubbles in the water, stirred up by the waves, to enjoy the coral reefs. Considering that we were the only two visitors the cook dished up very good food from a wide selection - I chose baby back ribs, Rønnaug chicken.
Later in the afternoon we did have to share out little paradise with six Americans who had moored their chartered catamaran off the island and come ashore by dinghy - with their own beer much to the disapointment of the barkeeper. I can't see that they could have made much profit from the day's business - our US$90 bill for transport, wine, soft drinks and food seems very little for such a special experience. Pictures of Sandy Island.
---