Kiel

Nano's blog.
Nigel Anderson
Fri 27 Jul 2007 17:28
Date: 27-07-07     Time: 16:30 UTC      Position: 54:20.38N  010:09.48E   Name: Kiel 


Dagen var avsatt til å se oss litt omkring i Kiel for så å treffe an gammen bekjent av Nigel. Turen til byen ble ikke noe av før lunsj fordi det regnet, til dels kraftig, det meste av formiddagen. Vi fikk beskjed at Roman ikke ville komme før fire-tiden, så det ble plutselig litt god tid til lunsj i båten og litt internett/bridge/skype i regnbygene, og litt uteaktivitet ute da sola tittet fram (eller iallfall at skyene ikke tømte seg over oss). En handletur til byen resulterte i en ny jakke til Rønnaug og to nye toalettbørster til Nigel. Jeg kom tilbake til båten mens Rønnaug fortsatte handleturen. Roman dukket opp litt etter fire og det ble mye livlig prat om felleskjente og hva vi har gjort de siste 22 årene siden vi traff hverandre sist. Han tok med seg en hel kasse øl fra distriktet der han nå bor. Dagens bilde - Roman og Rønnaug med øl fra Einbecker.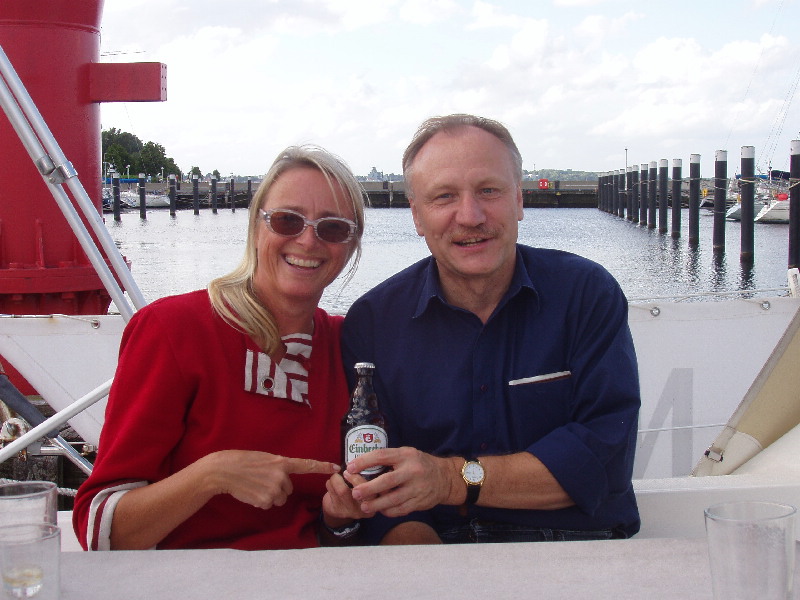 Rønnaug og Roman med øl fra "Einbecker"
Rønnaug and Roman with "Einbecker" beer.
English version
Today was booked for a small sightseeing in Kiel, then an old friend of Nigel should turn up at lunch time, but due to road works his new ETA was four in the afternoon and we had plenty of time for internet activities such as reading the papers, playing bridge and keeping in tough with people on skype. With the odd bit of sun there were even possibilities for some jobs on deck - greasing the wind mill for example. After the rain finally moved away we made a foray to town for some necessary shopping - a new jacket for Rønnaug and two new toilet brushes for Nigel. Roman turned up just after four and there was lots of things to catch up on as we haven't seen each other for twenty two years! He took a whole case of local beer from where he lives - see today's picture.
---