Azores - England day 3

Nano's blog.
Nigel Anderson
Fri 22 Jun 2007 17:07
Date: 22-06-07 Time: 16:00 UTC Position: 42:55.61N 020:37.54W
Last 24H: 129       Distance to Falmouth:  780   Distance from Azores: 400
Wind:. GOG, SOG: 042,7,2  Thin clouds, dry. Waves 1m.


Det virker som at våre dager på sjøen er nokså like hverandre. Det pleier å være noen timer med motorkjøring pga. for lite vind, så litt slør, litt spinnakerseiling og spridde seil for nattseilasen. Vi fikk av motoren ved åttetiden i går kveld, selv om vi bare såvidt greide å holde tre knops fart - stillheten var deilig etter sju timer med motor. Sålangt på turen har motoren gått i femten timer - mens vi har diesel for 120, så det ser bra ut på den fronten. I skrivende stund har vi vinden inn fra babord, ca. 30 grader fra platt lens, og spinnakeren drar oss mot England i litt over sju knop - og alle er blide og fornøyde. For de som følger nøye med på kartet - og har da lagt merke til at vi ikke seiler riktig kurs mot Falmouth - så har vi med vilje lagt inn en bue lenger vest for å ta høyde for nordlige vinder som vil komme om 2-3 dager og varer mye av resten av turen. Da er det fint å ligge litt mer mot nord og vest enn vi ellers hadde gjort om vi hadde fulgt en storsirkelkurs.
Det siste døgnet har vært preget av nydelig mat - tunfisk helstekt i ovn viste seg å være nok mat til minst seks personer, og siden Reidar ikke liker tunfisk - og spiste en boks med kjøttboller i spaghetti-saus til middag - ble det tunfisk til lunsj også. Vi får stadig besøk av delfiner som kommer både på dag og natt; hval har vi også hatt nær båten men heldigvis ikke for nær. Vi har pratet såvidt med den ene båten vi har sett her ute det siste døgnet - han var ikke spesielt skravlete og samtalen ble fort ferdig da vi konstaterte at vi ikke var på kollisjonskurs at at begge hadde sett hverandre. Vi har prøvd å anrope "Seven" over VHF'en flere ganger uten å få svar. Vi vet ikke helt hvor de er og har heller ingen kontaktmuligheter nå at de seiler alene mot Brest mens en klynge andre norske båter holder seg samlet på vei mot Irland. Dagens bilde:- middagsgjesten fra i går.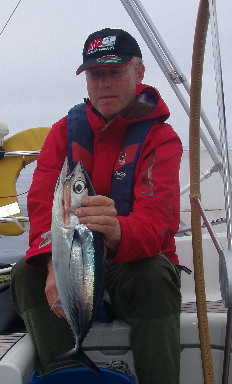 Thorstein med fisken.
Thorstein with the tuna.
English version
It seems that our days out at sea are all rather similar. Each has a few hours of motoring when the wind dies, some good wind on the beam, a bit of spinnaker sailing with the wind well abaft the beam, then some goose-winged at night when we don't use the spinnaker. After seven hours of motoring yesterday we got the motor off after dinenr at eight - initially only making three knots, but slowly building through the evening and night. As I write the spinnaker is dragging us through the water at well over seven knots and all are happy on board. So far we have used the motor for fifteen hours - a tiny fraction of the 120 hours or so diesel capacity we have on board. Those following our course closely will have noticed that we are heading further north than the true shortest course for Falmouth. This is an insurance policy against some forecast notherly winds which are due to arrinve in 2-3 days time. If that does happen then we will have a much more comfortable ride by having extra north and west in our position - and can sail further off the wind than would otherwise be possible.
The last 24 hours has given us some very good food - the tuna we caught yesterday was lovely - baked whole in the oven. Enough food for at least six people; as Reidar doesn't like tuna and had a tin of meatballs in spaghetti sauce instead, there was more tuna for lunch today. We are getting frequent visits from playful dolphins, both in the day and at night when the white stripes on their sides are all that is visible as they swim and jump around the boat. Whales have been spottet to blowing water in the air as they come up to breath. We did see one boat last night and talked briefly to them on the VHF to be sure that they had seen us - they passed peacefully about a mile off our stern, heading for America. Today's picture is of yesterday's tuna..
---