Fra / From Balestrand - Leirvik

Nano's blog.
Nigel Anderson
Sun 14 May 2006 19:32
Date: 14-05-06     Time: 18:00 UTC      Position: N61.08.19  E005.20.73   Name: Leirvik 


Etter nok en god natts søvn, eller kanskje ikke så bra pga. noe urolig sjø i havnen. Ferjene og hurtigbåtene tar ingen hensyn til at det ligger mange fritidsbåter i havnen i forbindelsen med jazzfestivalen, og kjører inn i full fart - som skaper store bølger. Vi fikk en nydelig frokost i båten til Odd - kokt egg og ufiltrert kaffe. Odd var litt uheldig med kaffepressa, og klarte å skubbe den ned trappa til kahytten. Mye glasskår og kafftgrut overalt! Dermed ufiltrert kaffe til frokost! Det var en del folk, både kjente og ukjente som vinket oss farvel da vi kastet loss og seilte ifra brygga med help at litt vind fra gunstig retning. Harald sang et avskjedsdikt som var nesten like bra som matlagingen hans. Vinden var ikke så gunstig resten av dagen, av og til sterk i bygene og stort sett rett på nesa! Vi gikk for motor. Det var sol imellom, med vinden var iskald, og noen av bygene ga oss hagl! Dinja ble for lang tatt i betraktning den seine starten og motvinden, så det ble Leirvik - en av våre favoritthavnene - som natthavn. Underveis så vi en U-båt fra den nederlandske marinen.Vi kom fram kl 19:30 (lokal tid), så G&T ble inntatt på innseilingen. Sammen lagde vi en spaghetti-rett til middag, som passet godt til rødvinen som var valgt for anledningen (en bag-in-box som var åpnet fra før!).
---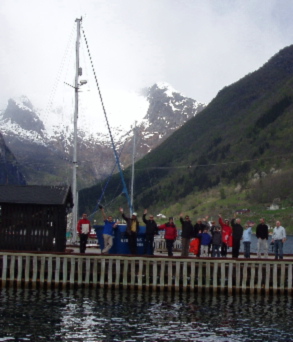 A farewell greeting at Balestrand. Farvelhilsen på Balestrand.
Ombord i Vindrek Fra venstre/From left. Odd (skipper), Torbjørn (byssegutt), Harald (kokken), Nigel (skipsingeniør)
---
After a good night's sleep - perhaps a little bit rolly as Balsestrand is not a good harbour at all. The ferries and express boats take no consideration of all the boats who are moored along the piers, and charge in at full speed making large waves. We got a nice breakfast on Odd's boat, boiled eggs and unfiltered coffee. Odd was a little careless and knocked the coffee pot down the companionway stairs, smashing it. Thus the unfiltered coffee! Quite a group gathered to say farewell as we slipped our moring lines and sailed off the pier - a fortunate light breeze blowing us off without the use of motor. Harald sang us a farewell song which almost matched the quality of his excellent food. The wind was not so kind for the rest of the day, being strong and on the nose, so we motored into a lumpy sea. Some nice sunny spells among the showers, but the wind was ice cold. Vi saw a submarine from the Dutch navy on our way. Our original goal of Dinja was clearly too far for the conditions, considering the late start and the slow progress into the wind, so we made for Leirvik for the night, arriving at 7:30 local time - G&T's and pre-dinner crisps were taken én-route. Leirvik is one of our favourite harbours. We made a spaghetti bollognaise wich slid down nicely with some red wine.
---