Ste Evette - Benodét

Nano's blog.
Nigel Anderson
Thu 20 Jul 2006 19:21
Date: 20-07-06     Time: 18:20 UTC      Position: 47:52.96N  004:07.18W   Name: Benodét 


Vi satte og spiste middag igår kveld - nydelig andefilét med poteter stekt i andefettet og franske bønner - da vi så jenta som skulle ta betalt for leie av fortøyningen. Det var litt oppstyr på de andre båter, med mye kameraer og peking. Hun hadde med seg en delfin som var ganske tam, og denne underholdte båtene mens hun tok inn penger for havneavgiften. Den hoppet flere ganger, uten at jeg fikk tatt bilder av mer enn bølgene etter at den hadde plasket ned i sjøen igjen. Kameraet mitt tar kanskje et halvt sekund fra man trykker på knappen før bildet tas, og da er det umulig å fange delfinen i lufta. Rønnaug fikk klappet den fra badeplattformen vår mens jeg filmet. Meget underholdende. Se dagens bilde.
Dagen i dag er tilbake til sol og varme. Vi hadde en forholdsvis lang dag på 37 sjømil til den historiske byen Concarneau. Det var ikke vind i det hele tatt, og sjøen var speilblank, men bare litt gamle dønninger. Sjøtemperaturen har steget til 21 grader nå, litt mer fristende enn de 19 vi hadde lenger nord. Det kom litt vind etter hvert, men bare nok til å holde 4 knops fart, så vi valgte å avkorte turen med ca. ti mil ved å gå inn til Benodét. Dette er et sted jeg har vært før, men for ca. 30 år siden slik at jeg ikke husker stort annet enn navnet, og at vi hadde det fint der ved en lang og flott sandstrand.
Da vi seilte langs kysten begynte varmen å gjøre seg gjeldende, slik at shorts og T-skjorter ble overflødige. Vi måtte veksle mellom seil og motor i de skiftende forholdene. Vi kom til Benodét i lag med hundrevis av andre båter - dette er et virkelig stort seileområde, og det er både rikelig med forskjellige gjestehavner og utrolig mange faste båtplasser. Systemet her er man blir vist til en fortøyningsbøye eller gjesteplass av en av mange småbåter som jobber for de forskjellige marinaene. Vi ligger faktisk på den siden av elva som hører til Ste. Marine, mens Benodét ligger på den østlige siden av elva Odet. Nå nyter vi middag i sommervarmen, og skal ta jolla over elva etterpå for å spasere rundt i Benodét og kanskje ta en is eller øl ute på byen.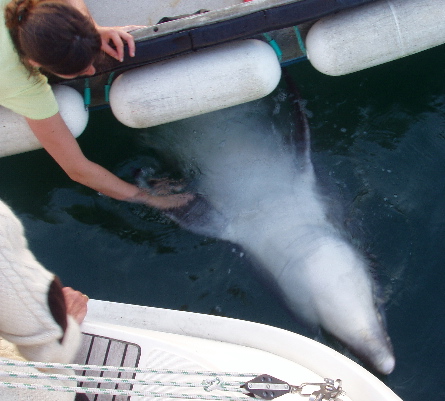 English version
We were sitting eating our dinner last night when we saw a dory driven by a young French lady - clearly the harbourmasters assistant - coming to collect the harbour fees. There seemed to be a lot of focus from other boats on this girl, with some pointing and lots of cameras. Following her around was a rather tame dolphin, who did a few tricks for the tourists, jumping clear of the water several times, rolling around and letting the girl stroke it. After she had collected the fees from all of the boats, she did a new round, coming up to each boat's bathing platform with the dolphin and letting the people pet it. No one seemed to have a whole fish to feed it with though! She came over to us and Rønnaug stroked and petted it, while I took photos and film. See today's picture.
Today we are back to sun and heat again. We had a fairly long run ahead of us, 37 miles to Concarneau. Unfortunately not a breath of wind in the morning today, the sea like a mirror, with just a slight old swell. However the water temperature has got up to 21 degrees now, which is a much more tempting temperature than the nineteen degrees we had a few days ago. The wind picked up after motoring for a couple of hours, though only enough to do about four knots. However this is much nicer than motoring, so we decided to cut about ten miles off the day's plan by going to Benodét instead of Concarneau. I have been to Benodét before - about thirty years ago, so I don't remember much of the place, other than that we hade a good time there and that there was a long sandy beach.
Sailing slowly along the coast, it got pleasantly warm, so shorts and T-shirts were discarded. We varied between sailing and motoring as the wind changed and our course around the many marked shallows gave more or less favourable wind directions. Arriving at Benodét together with about a hundred other sailing boats we realized that this is a BIG sailing centre. The whole river is packed with moorings and harbours for sail boats - perhaps one boat in fifty is a motor boat. There must be several thousand boats in this river. The protocol for visitors is to catch the attention of one of the many dorys that buzz around, and indicate if one is looking for a pontoon berth or a mooring. They then show you to your place. There are two (hopefully competing) centres, one on the Benodét side (east side of the river) and on the Ste. Marine (west) side. We are in fact on the Ste. Marine side, but will dinghy over to the Benodét side to look at the town after we have eaten dinner.
---