Petite Anse dArlet - Fort de France

Nano's blog.
Nigel Anderson
Thu 22 Feb 2007 23:44
Date: 22-02-07     Time: 22:00 UTC      Position: 14:36.01N  061:04.16W   Name: Fort de France 


Etter G&T's ombord ved solnedgangen - som ikke viste oss den grønne blinken pga. én ensom sky som var på feil plass - dro vi inn til landsbyen der det fortsatt var en del karnivalstemning. på onsdagen kler man seg i svart og hvitt - på mandagen før mardi gras kler alle seg i rødt. En lokal tradisjon er å ta noen gamle biler av type Renault 4, fjerne dørene og panseret, fjerne også eksosrøre og lydpotta, for så å male dem i sterke farger, spille musikk og lage masse bråk ved å ruse motoren gjentatte ganger. Artig de første femten sekundene men når man må rope til hverandre for å bli hørt over støyen, blir det fort slitsomt. Vi spiste pizza på en liten gatekjøkken-lignende restaurant, og fikk rikelig med god mat for under kr100. Rønnaug fikk også danseinstruksjon i hvordan man danser calypso av en eldre distingvert herremann. Det var gøy, men ikke så lett å få dreis på i sanden. Underlaget (golvet) på restauranten hadde nemlig sand. Ganske kjekt å bare rake opp matrester og annet smuss, for her slapp man jo å vaske gulvet etter at gjestene forlot restauranten. Man sitter jo mer eller mindre utendørs her i Karibia.
Vi sov uforstyrret av lyder enn de fra bølgene som slo inn på land, men både rullet litt da vinden døde og vi ble liggende mer på tvers av dønningene.
Vi dro inn på land for å se oss litt om på dette lille stedet - som ikke tok så lang tid, samt for å kjøpe fersk brød til lunsj. Etter lunsj ombord bar turen langs kysten og over til Fort de France. Det er lite vind på le-siden av Martinique, og det som var der var rett imot oss idag, så motoren fikk seg et par timers gange - og batteriene kom opp i tilnærmet full ladning. Vi ligger nå for anker veldig sentralt - en kort jolletur inn på land, og sentrum er bare et par hundre meters gange. Vi hadde tid til å rusle litt i hovedstadens gater - som er som en hvilken som helst større fransk by! Med sine 100.000 innbyggere er Fort de France den største byen vi har vært i siden Las Palmas. Butikkene er omfattende med et godt utvalg av varer. Mer om Fort de France i kommende dager. Dagens bilde er fra Petite Anse d'Arlet.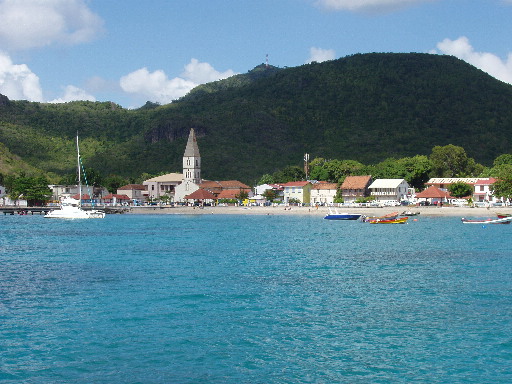 Stranden, landsbyen med kirke i Petite Anse d' Arlet.
The beach, village and church at Petite Anse d' Arlet.
English version
After G&T's on board with "Irie" - sundowners but unfortunately without seeing the green flash as one single cloud was on the horizon - blocking the sun from where we were. We took Irie's dingy ashore where there was still some residual activity from the carnival week. The custom for Ash Wednesday is to dress in black and white - having dressed in red on Monday. An effigy of the devil is also burnt and a large man wanders round in a Halloween mask. Another tradition is for some youths to take a few old cars, take off the doors and bonnet, remove the silencer and exhaust pipe, then to paint what is left in bright coloured stripes. These are then revved noisily on the street, but driven very carefully around playin music which although loud, can't compete with the noise of the motor. Thise all seems quite good fun for fifteen seconds, but soon looses its appeal - especially when they are outside your restaurant and all conversation has to stop until they take their noisy beasts elsewhere. The pizza at a small restaurant was very good and reasonably priced. Rønnaug also got some dancing lessons in Calypso from a ditinguesed local man. It was not easy, because the restaurant floor was just sand. And, the movements that they seem to be born with are even more tricky for us northerners on an uneven floor. But it was fun!
We slept undisturbed by noises other than that of the waves breaking on the beach. As the wind died the boat lay more across the small swell which rolled in, so there was a little more rolling than we have become used to in the Le Marin area.
We took a morning ashore to have a look around this little place - which didn't take that long. Fresh French bread was purchased for lunch on board. We then weighed anchor and motored the eight miles along the coast up to Martinique's capital city of Fort de France. The harbour guide we have makes the place sound terrible, but we found plenty of room to drop anchor and the waster was clear enough to enjoy a cooling swim. We made a quick foray ashore to buy some essentials such as make up remover, body scrub and conditioner. This is the largest city we have been to (100,000 population) since Las Palmas - and it is very typically French. We will explore, and write more about, Fort de France the coming days. Today's picture is of our anchorage at Petite Anse d' Arlet.
---