St. Lucia, Rodney Bay

Nano's blog.
Nigel Anderson
Sat 16 Dec 2006 22:18
Date: 16-12-06     Time: 22:00 UTC      Position: 14:04.46N  060:56.93:W   Name: Rodney Bay, St. Lucia 


Egentlig har jeg sendt bloggen for i dag - så hvis du gikk glipp av meldingen om avslutning av seilingen og bildet av delfinen får du bla tilbake én melding i bloggen. Jeg har ikke så mye å si om resten av dagen. Vi fikk våre glass med rom punsj - nydelig, og brukte dagen til å sjekke inn (mer byråkrati og papirarbeid enn Portugal!), vaske båten litt, ordne med strøm og vann osv. Mannskapet stakk av for å dra på stranda, mens vi slet med de første jobbene på en lang liste. Lunsj med en stor og kald øl inntok vi på en av mange restauranter her i marinaområdet. Vi traff en god del av de andre norske båtene og pratet lenge om turen vår og problemene vi har hatt. De andre hadde også sine historier, ikke minst Dream Catcher som hadde en dame om bord som var sjøsyk fra start til mål, og gikk ned 8kg fra en allerede slank kropp!
Nå sitter jeg og går gjennom e-post til den andre kontoen min (99% spam), sjekke litt om spinnakerbom, og venter på at kvelden skal bringe litt lavere temperaturer til oss. Man blir nokså slapp i denne varmen. Flere bilder legges ved fra det siste døgnet.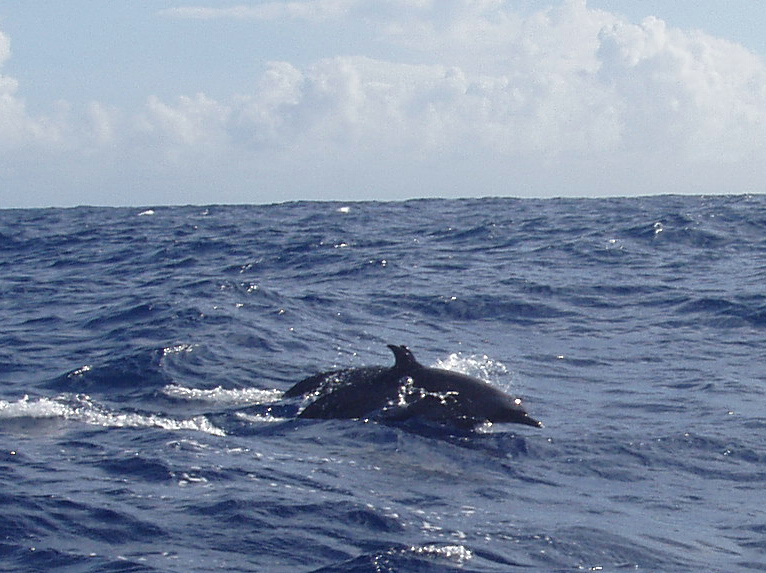 Delfiner / Dolphins.
Squalls.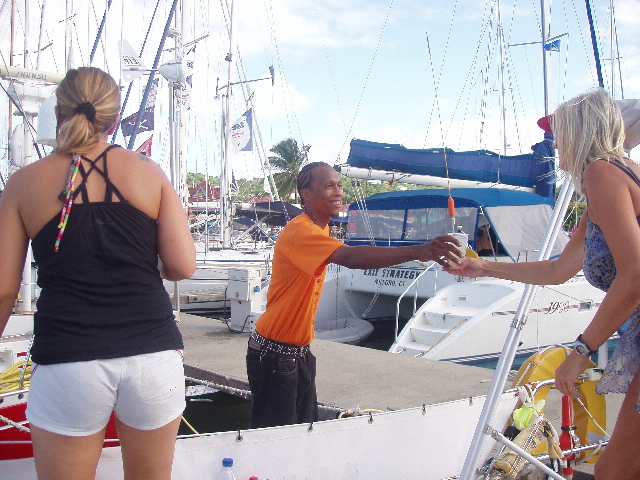 Rum punch.
English version
I have really written the blog for today - so if you haven't read the report of the last 24 hours of the crossing - and seen the dolphin picture, then go back one entry in the blog. There is not much else to say about the day - we got our welcome rum punches which were very refreshing. The morning went on checking in - the paper work is even more complex and idiotic than in Portugal. We eventually arranged water and power from the dock boy - I needed to buy a special adaptor, luckily the shop was still open. After a bit of washing and cleaning of the boat, the crew left us to go to the beach and we have thus started on the long job list. We had lunch at one of the marina restaurants - with a large cold beer! Not cheap here though. We met up with several of the other Norwegian boats and exchanged stories of the crossing and the challenges we have had. Dream Catcher had a lady crew member who was sea sick from the start to the finish line - she lost 8kg from an allready slim body!
Now I'm sitting on board with WiFi access going through my e-mails (99% spam) on an account I reserve for large files and spam. I've been checking about a spinnaker pole too. Now it will be nice to enjoy the cool of the evening - this heat makes one a bit weary. Several pictures from the last day at sea and the arrival.
---