Les Saintes

Nano's blog.
Nigel Anderson
Thu 15 Mar 2007 21:28
Date: 15-03-07     Time: 23:00 UTC      Position: 15:51.99N  061:35.19W   Name: Bourges des Saintes 


Enda en fin og varm dag. Vi har ikke hatt regn siden vi kom hit. Dette er simpelthen fordi disse øyene er så små og lave at de ikke tvinger fram skydannelse som de høyere øyene som Dominica og Guadeloupe gjør. Da vi gikk tur til en høyde i dag, der vi hadde utsikt til både Guadeloupe og Dominica, så vi forklaringen. Begge disse øyene hadde skyer over seg, og byger gikk streifende omkring. Vi hadde stort sett bare sol, men noen små godværsskyer. Smart å holde seg på de lave øyene. Turen gikk opp til "Fort Napoleon" som en gang hadde beskyttet denne store havnen, sammen med tilsvarende festning på den andre øya - Fort Josephine. Museum og kaktushage - fint. Flott utsikt herifra - se øverste bilde over byen og havnen. Vi spaserte over en del av øya, ned til en lang og fin (og mennesketom) strand på østsiden av øya. Se midterste bilde. Vi så også en iguana - ikke stor, men nydelig grønnfarge. Se bilde nederst. Den siste delen av ettermiddag ble tilbrakt ombord etter at Rønnaug hadde klippet håret til Nigel. Nigel spilte bridge på internett og Rønnaug leste.
Utsikt over byen og havnen fra Fort Napoleon
View over the town and harbour from Fort Napoleon
Denne stranda hadde vi for oss selv.
We had this beach to ourselves.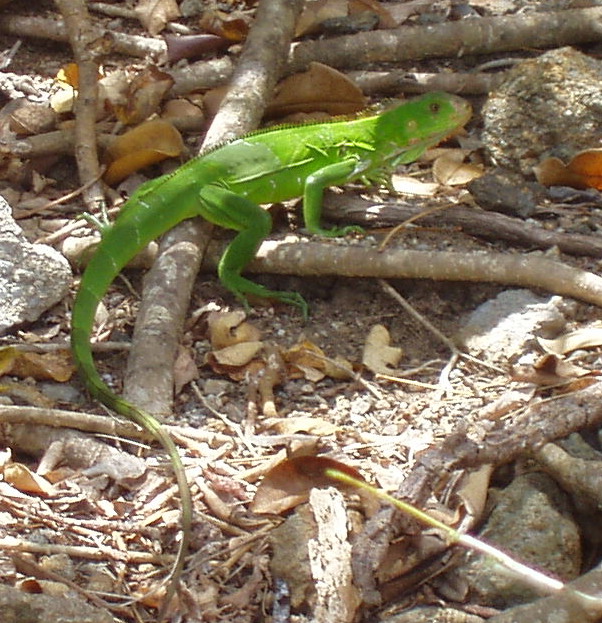 Iguana.
English version
Today has been another fine and warm day. We haven't seen a drop of rain since we arrived at Les Saintes. This is simply because the islands here are so low that they don't cause the cloud formation that higher islands do. We saw this clearly today when we walked up to Fort Napoleon which is on a hill overlooking the harbour. From here we could see both Dominica and Guadeloupe covered with clouds and showers moving around while we were bathed in sunshine. A good move to stay here I suspect - and also why the place is so popular with the French. We hardly ever hear another language spoken here. The fort was an interesting visit for the museum and general look around plus great views - see the upper picture. We walked over a large part of the island, including a long and deserted beach on the windward side of the island - see the middle picture. We also saw one of the local green iguanas - see the lower picture. The rest of the afternoon, after having had my hair cut by Rønnaug, was spent swimming then reading (Rønnaug) and playing bridge (Nigel).
---