Arriving at Horta in the Azores

Nano's blog.
Nigel Anderson
Tue 5 Jun 2007 19:24
Date: 05-06-07     Time: 18:00 UTC      Position: 38:31.76N  028:37.47W   Name: Horta, Faial, Azores  


De siste timene av turen over Atlanterhavet gikk som forventet bra. Vi seilte lenge med spridde seil før vinden begynte å dreie og løye. Vi så at vi kunne rekke inn til havnen på Faial før det ble mørkt dersom vi holdte en fart på over seks knop, så Seven og oss startet motorene og gikk for maskin de fire siste timene, og kom i havnen ved solnedgangen. Havnen er smekkfull av båter som venter på været for å komme videre, og vi ble høflig avvist fra å legge oss utenpå andre båter ved resepsjonsbrygga og måtte ankre opp for natta. Ankringsforholdene skal ikke være så bra her i havnen står det i guiden. Alex og Ingrid blåste opp jolla si og kom over til Nano for noen øl. Anna kom ikke inn før senere på kvelden og det var da for sent å feire turen sammen med dem.
I løpet av natten begynte det å blåse litt mer - fra nord. Vinden har økt på hele dagen og blåser nå stiv kuling inn i havnen - og det skal blåse enda mer de nærmeste dagene. Vårt anker glapp noen meter og vi kom litt tett in på en annen båt og har nå måttet flytte på oss - forhåpentligvis til grunnere vann og bedre holdebunn. Vi har fått beskjed av havnesjefen om at det alltid skal være en person ombord mens uværet varer. Selv om vi er på ventelista for å komme inn i marinaen og ligge ved en brygge er det lite sannsynlig at vi kommer inn på noen dager siden ingen båter reiser ut i dette været. Så den forventede gjensyns-middag på Peter's Sport Café i kveld er avlyst i påvente av bedre vær. Selv om vi synes synd på oss selv nå at været er så dårlig (det regner noe forferdelig i tillegg til vinden) husker vi at vi er tross alt i havn - hadde vi vært enda en dag på havet ville vi hatt nokså vanskelige forhold nå i innspurten mot Horta med 40 knops vind imot oss!
For å oppsummerer turen over fra Bermuda - som ble på 15 døgn og sju timer og en utseilt distanse på ca. 2050 sjømil - må vi bare si at vi egentlig hadde en kjempefin tur, til tross for atypiske vindforhold og at vi måtte stadig navigere oss rundt områder med mye vind. Vi hadde bare én dag som jeg vil betegne som ubehagelig. Det ble litt mye motorkjøring, men vi minner oss alltid at det er bedre med for lite vind enn for mye. Jeg legger ved et par bilder fra turen tatt av Ingrid fra Seven.
Håndstyring er morsom på bidevindsseilas - i små mengder. Heldigvis slapp vi å måtte håndstyre i fire dager på slutten.
Hand steering is fun when hard on the wind - in small doses. Thankfully we didn't have to hand steer for all the the last four days.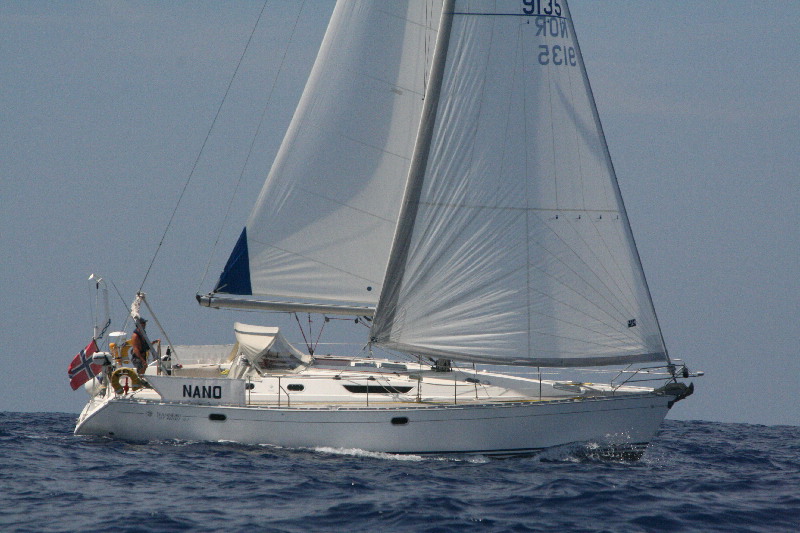 Det skal være mest medvindsseilas, men her har vi skjøtene nokså stramt og seile bidevind på smul sjø.
Supposedly predominantly winds from behind the beam, but here we are hard on the wind but on a flat sea.
English version
The last few hours of the Atlantic crossing went as expected. We sailed for several hours goose winged and at speeds up to seven knots. After a while the wind veered and died so we cranked the motors into life and held a good speed (at least Seven and us, Anna went slower) into Horta, arriving at sunset. The harbour is very full and boats are tied up five deep along every piece of available quayside. We were told that there was no room for any more yachts to moor up and would have to anchor. The anchoring conditions are reportedly not that great here according to the pilot guide. Ingrid and Alex from Seven came over for a few beers to celebrate the completion of the crossing, but Anna got in too late to join us.
It started to blow during the night - from the north. The wind has increased in strength all day and is now blowing a near gale force 7, expected to increase to gale force 8 later. Our anchor slipped several metres before digging in again, so we decided to move and are now anchored in shallower water, hopefully with better holding. The harbour master has instructed all boats at anchor to keep at least one person on board at all time until the gale passes in a few day's time.
We checked in this morning - it is nice to be back to European efficiency again - and are on the waiting list to get a marina berth. However this needs boats to leave in order to get a space and no-one will be leaving in this weather, so we will be at anchor for a few days yet. So the planned dinner at Peter's Sport Café this evening has to be cancelled until better weather arrives. Despite complaining about the weather we are very glad to be in harbour - one more day at sea and we would be fighting our way into this wind instead of riding at our anchor with the heater on!
To summarize the crossing - which took 15 days and seven hours and was all of 2050 miles as we did not sail a direct route by any means - we must say that we had a great trip. There was just one day which was unpleasant and our technical difficulties were more annoying than serious. I have put in a couple of pictures from one of the better days (courtesy of Ingrid from Seven).
---