Still recovering in Falmouth Harbour

Nano's blog.
Nigel Anderson
Wed 28 Mar 2007 23:53
Date: 28-03-07 Time: 23:00 UTC Position: 17:00.60N 061:46.63W Name: Falmouth Harbour


Antigua har vist seg fra sin bedre side i dag med blå himmel og kjølende passatvind. Foten blir stadig bedre og jeg han hinke rundt båten og på land. Det blir bare mer behagelig når det ikke regner, selv om aktivitetene ikke er så annerledes enn en regnværsdag. Jeg ble ferdig med glassfibermatte og polyester før lunsj. Nå gjenstår det bare å hente batteriene som er bestilt til St. Maartin, ordne med kabel og kabelsko, og få batteriene ombord. Slik som situasjonen er nå må vi kjøre motoren minst to ganger hver dag - men det blir mye PC-bruk når vi ikke kan gjøre mye annet pga. foten og at vi har WiFi-tilgang. Det er utrolig kjekt med internettilkobling. Det går litt tid til bruk av Skype men familie og venner, lesing av norske aviser og også bridge som jeg spiller en god del på nettet - helst med min gamle (gamle som i forhenværende, ikke i alder!) faste makker Harry Arne (som forøvrig meldte meget bra i dag og fikk meg i en vanskelig stroreslem som jeg klarte å ro i havn).
For å drive PC-en trenger jeg 220V vekselstrøm - som produseres fra 12V likestrøm av en enhet som heter en "inverter". Den som jeg bruker til PC-en sa takk for seg i går kveld midt i spilling av en DVD. Heldigvis har vi to ombord - den andre er en kraftig sak på én kilowatt som brukes til Rønnaugs hårføner, men vi må også ha en liten en på 150 Watt til PC-en og annet småtteri. Til tross for at dette stedet skal være godt utstyrt med båtutstyrsbutikker, fant vi ikke en inverter og må greie oss inntil vi kommer til St. Maartin der det er flere store butikker.
Som bilde i dag har jeg igjen valgt fra Nelsons Dockyard.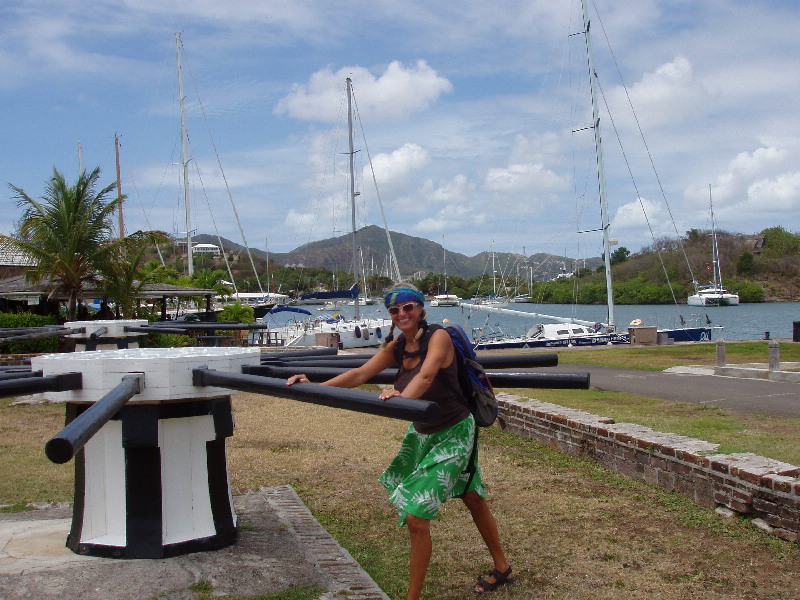 Fra Nelson's Dockyard - slik var ankervinsjen i gamle dager.
From Nelson's Dockyard - this is how the anchors were weighed in the olden days.
English version
Antigua has shone from its better side today after yesterday's rain - blue sky and the usual cooling easterly trade wind. The foot is getting slowly better and I can limp around the boat and a little on land. The foot and weather has made today an altogether much better day than yesterday. I finished the glass fibre work under the floor boards this morning, so I just need the batteries and cable to complete the job - which I have ordered from St. Maartin where we will be in ten days time or so. At the moment we have to run the motor two or three times a day to charge the batteries - particularly days like yesterday where there was no sun for the solar panel, no wind for the wind generator and lots of PC usage which takes a fair bit of power. The PC needs 230V AV which we produce from 12V DC using an inverter. This packed up yesterday evening in the middle of a DVD so we went ashore today in search of a new one. Despite being a fair sized boating centre we failed to find one, so will probably wait until St. Maartin where there are several large chandlers. We have another inverter on board - a beast with a one kilowatt capacity which is used to power Rønnaug's hair dryer. The PC only needs the smallest type on the market producing up to 150W. These days of imobility in a harbour with good WiFi mean that the PC gets a fair bit of use, particularly for Skype-ing with family and friends, playing bridge and reading the newspapers.
Today's picture is also from the remnants of Nelson's Dockyard here in the English Harbour area.
---