Back to Skjelsvik

Nano's blog.
Nigel Anderson
Sat 11 Aug 2007 16:58
Date: 11-08-07 Time: 16:00 UTC Position: 59:05.78N 009:41.72E Name: Skjelsvik


Etter mange fine dager kom regnet i går kveld - og det pøste ned gjennom hele natta. Jeg fikk en stri tørn med å lense gummijolla i dag tidlig. Marit og Roald forlot oss tidlig på dagen - Rønnaug kjørte med dem til Langesund og tok Bussen til Skjelsvik - der jeg skulle seile båten. Miles og Hanna (se dagens bilde) kom over til Seivall for å være med på den korte etappen tilbake til Skjelsvik - der de bor. Regnet som hadde begynt å gi seg økte på igjen da vi var ute og det ble en våt fornøyelse å legge til her og gå opp til Miles sitt hus. Mens vi holdte på med dette var Rønnaug og Ingrid på handletur til Porsgrunn. Miles, Hanne og jeg kom etter og rakk såvidt innom Clas Ohlson før vi møtte jentene og turen bar ut til enda et vennepar - Harald og Gry, som har bygd seg nytt hus i Skjelsvik. Men, nå ut på ettermiddagen har regnet gitt seg og vi håper på bedre vær de nærmeste dagene.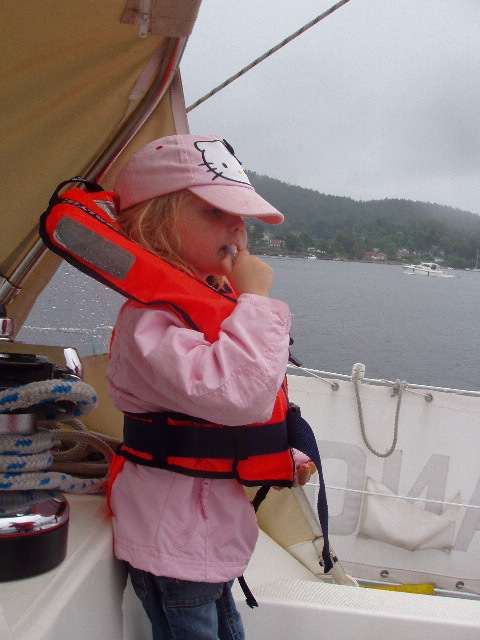 Hannah hjelper med turen til Skjelsvik
Hannah helps us on the trip back to Skjelsvik.
English version
After so many days of nice weather, the rain set in yesterday evening and kept up its job of filling the dinghy all night - it was quite a job to bail it out this morning. Marit and Roald left us this morning, Rønnaug went with them to Langesund while I busied myself onboard. She took the bus back to Skjelsvik and went shopping with Ingrid, while Miles and Hannah (see today's picture) helped me with getting the boat back to Skjelsvik. The rain which had almost stopped in the morning returned with a vengeance and we got very wet mooring the boat in the marina here and walking up to Miles' house. We then joined the girls at the shopping centre in Porsgrunn - making a short visit to a shop for some technical odds and ends. Our social program continued when we visited Gry and Harald - they have just built themselves a new house, also at Skjelsvik. The heavy rain has now stopped and we hope that the good weather will return.
---