St. Lucia, Rodney Bay

Nano's blog.
Nigel Anderson
Tue 19 Dec 2006 23:51
Date: 19-12-06     Time: 23:50 UTC     Position: 14:04.46N  060:56.93W   Name: Rodney Bay


I går var Rønnaug på fem stjerners hotel sammen med de andre norske damene og fikk full overhaling! Det alle beste var masasjen av en sterk neger. Se det nederste bilde av manicure.
Jobbingen fortsetter - og i dag har vi fått unna to av de viktigste jobbene. Vi mistet VHF-antennen i mast-toppen på de siste dagene av overfarten. Det er alltid vanskelig å vurdere en slik jobb før man har vært på mast-toppen, men utifra det jeg husker kjøpte jeg en ny antenne. Heldigvis var hadde ikke kabelenden glidd ned i masten, og det var mulig å dra litt ekstra kabel opp masten for å få til den nye tilkoblingen. Nå har vi iallfall VHF på plass igjen. Etter turen opp masten gikk jeg til et verksted (litt skummelt og lugubert sted!) for å få laget en plate i 6mm syrefast stål og for å modifisere det ene ankeret vårt. Platen ble produsert etter ønske og jeg har montert den slik at det nye ankeret (som jeg kjøpte av Dream Catcher) ikke skader plasten når den sitter på rullen på baugen. Etter mye svette og stev med både det nye ankeret - 25kg tung, er prosjektet avsluttet med vellykket resultat. Vi har aldri vært fornøyd med den 15kg kopi av en CQR, men nå har jeg fått modifisert den slik at den skal grave seg ned i sanden mye bedre - som en ekte CQR. Forskjellen var i vinkelen mellom plogspissen og skaftet - kopien har tydeligvis måtte bruke en brattere vinkel for å unngå problemer med patentet til CQR - og dermed fungerer det ikke bra. Nå har jeg bygd om til samme vinkel som en ekte CQR. Vi får se når vi har anledning til å legge ut to ankere om den gamle graver seg bedre ned i sanden. Men med den nye tror jeg ikke vi vil ha så mye behov for å legge ut to ankere.
Nå på kvelden er vi helt utkjørt etter all jobbingen - Rønnaug har handlet mat for en god del av juleperioden og gjord en del ryddearbeid i båten, samt bistått meg i mine oppgaver. Nå skal vi ut for å ta en øl sammen med "Steamy Windows". Jeg tok ikke bilder idag, så her er oss på turen over - litt ubarbert og ustelt i håret.
Ubarbert på turen over Atlanteren.
Inshaved on the crossing.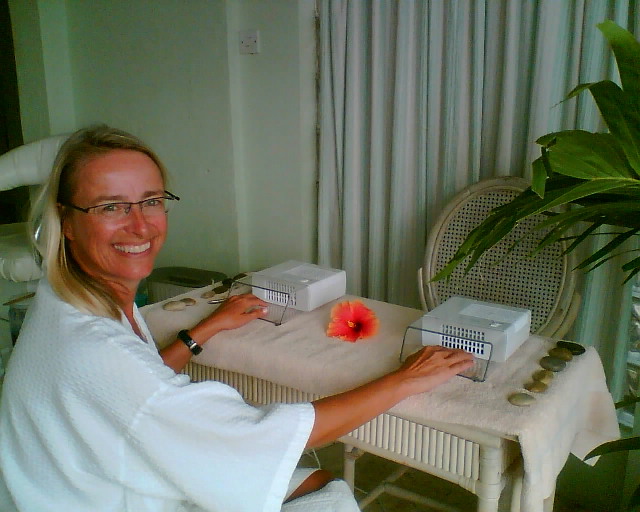 Rønnaug på spa.
Rønnaug at the spa.
English version
Yesterday Rønnaug and the other Norwegian girs were at a five star hotel which has a spa and gott the full treatment. The best part was the masage by a strong black Caribbean man. The lower of today's pictures is from the manicure session.
The jobs continue and today I feel that we have broken the back of the list in terms of completing the two most important tasks. We lost the mast top VHF antenna on the crossing, so I bought a new one based on my memory of the fitting size etc on the mast. Fortunately the new antenna fitted the old fittings and the cable was still there - I feared it may have fallen back down the mast, but luck was on our side. After an hour at the mast top the job was completed. Everything seems to work - though we haven't been able to test if the range is as it should be. After the trip up the mast I went to a local workshop - rather a suspect looking place. Here I got them to make a protection plate of quarter inch stainless plate and to make a modification to the old anchor. The plate is an important part of the project of changing the boat's standard 15kg anchor with a 25kg Delta-anchor which Fred on Dream Catcher had extra after he upgraded from 25 to 40kg. It protects the bow of the boat form getting scraped up by the new anchor which is considerably larger than the old one. This was a major project just getting the 25kg heavy anchor into place, then finding the best position for the plate and drilling the holes to attach it. Still - all done now and we are a lot more happy with an over dimensioned anchor - we will mostly be at anchor in the Caribbean so good ground tackle is a must. I hope that the modifiiction to the old CQR-copy will also improve its performance. Being a copy, they have a slightly different form so as not to infringe the patents - therefore they do not work as well! I have now modified it to be more like the original CQR. We will see if it digs properly into the sand when we first have to lay out two anchors and I can dive down to see.
Now it is evening and we are both pretty weary after all the work we have done. Rønnaug has helped me, organized things in the boat and done the shopping for the Christmas period. Now we are going over to "Steamy Windows" for a beer. I didn't take any pictures today so I'll put in a shot from the crossing when we were a little unshaved and not straight from the hairdresser.
---