Fair Isle - Kirkwall in Orkney.

Nano's blog.
Nigel Anderson
Fri 26 May 2006 17:31
Date: 26-05-06     Time: 16:00 UTC      Position: N58.59.25  W002.57.51   Name: Kirkwall, Orkney 


En lang dagsetappe fra Fair Isle til Kirkwall på Orkney. Vi valgte dermed å stå opp tidlig for å reise kl. 7. Vi har hele seks seilbåter i den lille havnen på Fair Isle, vi lå innerst mot brygga, våre danske venner utenfor oss, og en sveitsisk båt ytterst på vår rad. De måtte da også opp tidlig siden danskene og oss ville dra tidlig. Dagen begynte med sol og vindstille, så motoren fikk gjøre litt arbeid de tre første timene inntil en fin sørøstlig bris tok til, og vi kunne sette seil og slå av motoren. Vi hadde bra fart over til Orkney, og med strømmen med oss i partier, hadde vi en fart over grunnen på ni knop. Det var heller ikke mye bølger, så det ble en meget behagelig seiltur. Etter fem timer var vi innaskjærs, og hadde da helt flat sjø, og mye å titte på. Da vi kom lenger inn, skulle vi dreie inn mot vinden, og valgte da å gå for motor. Strømmen nå var imot oss, og selv om båtens fart var på litt over 7 knop, gikk vi kun framover med 2,5 knop. Her burde vi ha hatt litt bedre kunnskap om strømmene, og kanskje valgt en annen rute eller et annet tidspunktet i forhold til tidevannet. Heldigvis kom vi forbi, og igjen fikk seile med strømmen. Vi ankom Kirkwall 16:30 lokaltid - så turen ble på litt over 9 timer - noe bedre enn forventet. Det ble regn og kuling på slutten av turen så vi gadd ikke gå i land, men tok en øl som ankerdram, skrev bloggen, og vi får se hva resten av kvelden bringer. Igår kom vi syd for 60 grader nord, og nå i Kirkwall er vi syd for 59 grader, så vi begynner å komme ned på sydelige breddegrader! Havneavgiften her er £12 pr. natt - ganske dyrt, og det dobbelte av Lerwick.
I motsetning til Shetland og Fair Isle, er Orkney ganske flat. Det er mer frodig jordsmonn her, og landbruk er mye mer utstrakt enn på Shetland. Her er alle bønder som fisker litt på si, mens på Shetland er alle fiskere som driver gard på si!
Bildet under - Nano, tatt av danskene under turen til Fair isle igår.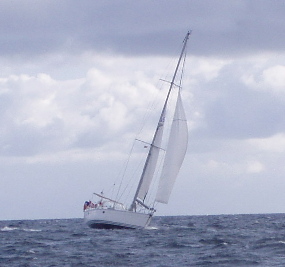 (Picture above - Nano, photographed by the Danish boat as we sailed to Fair Isle yesterday.)
Todays sail was a long run for a day, on the map about 60 miles, so we got up early for a seven o'clock depart. After the almost deserted harbout in Lerwick, it was s shock to find that we were all of six sailboats in the little harbour at Fair Isle. As the pier is only long enough for two boats, we rafted up three deep. We were innermost, then our Danish friends, then a swiss boat. The Swiss had to get up early too in order to let us and the Danes out. The day started bright and windless, so we motored the forst three hours until a pleasant south-easterly breeze picked up and we could set sail and let the motor have a rest. Flat sea, a good wind, and favourable current gave us nine knots over the ground at times. After five hours we were within the Orkney islands and protected from waves, had a fine sail in the early afternoon sun. As we came further into the Orkneys, we had to motor against the wind. Now the current was against us - taking four and a half knots off out boat speed - and we barely crept forwards in relation to land at 2.5 knots, despite doing over 7 knots through the water. Fortunately we came through this sound after a while, could sail again, and had the current with us. We arrived at Kirkwall at 16:30 local time, so the trip was just over 9 hours - again better than expected. As we came in to the harbour, the weather turned to rain and became windy, so we have delayed exploring Kirkwall and are now enjoying a beer, writing the blog, knitting, and looking forward to a relaxine eveing, and hopefully a nice day to look around Kirkwall tomorrow. We are now just below 59 degrees north, so we have come over a degree south the last two days. Harbour fees here are exactly the double of Lerwick - twelve pounds per night.
The Orkney Isles are, in contrast to Shetland, pretty flat. The landscape is lush - much more suitable for farming. It is said that Orkney Islanders are farmers who have boats, wheras Shetlanders are fishermen who have farms.
.
---