W. Loch Tarbert - Ardminish, Isle og Gigha

Nano's blog.
Nigel Anderson
Mon 12 Jun 2006 18:42
Date: 12-06-06     Time: 17:00 UTC      Position: N55.40.48  W005.43.98   Name: Ardminish, Isle of Gingha 

Siden vi lå utenfor en reketråler, var vi innstilt på å bli vekket tidlig for å slippe ham ut. Klokka ble halv åtte før vi hørte at en større dieselmotor ble sveivd igang. Vi spratt ut av senga, kledde på oss kjapt, og var på dekk klar til å starte vår egen motor, og kaste loss. Det viste seg å være en annen fiskebåt med en bråkete motor som var igang, og det var ikke tegn til liv på nabo-båten ennå! Vi valgte allikevel å komme igang, siden vinden hadde løyet utover natta, og vi så sjansen å komme avgarde til Gigha. Ut fjorden gikk vi for motor, men vinden tiltok, og vi fikk en frisk seilas fra enden av Loch Tarbert til Gigha. Her så vi det lå flere seilbåter, men det var fortsatt flere ledige gjestebøyer, og vi fikk den beste som ligger innerst i bukta - mest skjermet fra bølgene. Sammenlignet med Isle og Jura er denne havnen ganske rolig, selv om det er en viss bevegelse i båten. Turen var ikke så lang - 15 sjømil, og vi var ferdig fortøyd kvart på ti. Værmeldingen var for økende vind utover dagen, opp mot sterk kuling og dreiende fra sør-øst mot sør-vest. Det var da godt å komme i le og sikret en bøye før vindøkningen kom.
Ardminish er en liten bygd på en liten øy, men det går bilferje hit. Siden det var igjen strålende sol her ute (skyer og byger over land) tok vi jolla i land og utforsket stedet litt, samt handlet mat. Øya er veldig frodig - tre garder er i full produksjon, og vi så mange traktorer igang med å frakte høyballer fra slåtten. Enda mer merkelig for en så liten øy er at det finns en stor botanisk hage med mange eksotiske planter. Dette var tydeligvis en hobby før i tiden for en rik Lord, men nå er det Nantional Trust om holder anlegget vedlike. Virkelig flott var det - med anbefalte og merkede stier, utsiktspunkter der man ser mesteparten av øya, samt Islay og Jura på den andre siden av sundet. Kan anbefales på det sterkeste - spesielt i mai og juni når blomstringen er på sitt høyeste.
Da vi kom tilbake fra turen vår hadde vinden økt enda mer, og det var litt større bølger. Vi måtte gå mot vinden i jolla for å komme tilbake til båten - og det ble ganske mye sjøsprut over oss. Det var heller ikke så lett å løfte påhengsmotoren av og få den ombord siden både båten og jolla danset livlig på bølgene. Vi har forberedt båten til en lang tur imorgen - til Bangor i Nord-Irland, men det kan hende vi venter en dag til for å la sjøen roe seg etter den kraftige vinden vi har hatt idag.
Bildene - oss i den botaniske hagen..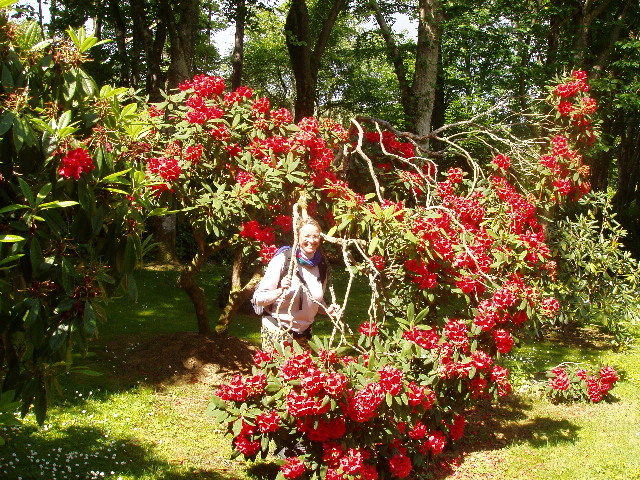 Pictures - us in he botanical gardens.
As we were laying outside a prawn trawler, we expected to have to get up early to let him get out. However the myth about fishermen getting up at the crack of dawn didn't seem to apply here, and it was seven thirty before we heard the roar of a large diesel engine being started. Anxious not to keep the trawler waiting, we hopped out of bed, pulled on some clothes, and got on deck to start our own motor and slip away. It was first when getting onto deck that we realised that it was a different boat which had started its rather noisy engine, there being no sign of activity on board our neighbour! Well, it was a nice enough morning - the wind having died down during the night - so we got going anyway, motoring down the loch. The wind soon picked up, and we had a fresh sail from the end of the lock to the island og Gigha in steadily strengthening wind. We were cracking on at close to eight knots under deeply reefed sails. About an hour of sailing and we arrived at Ardminish where several other sail boats were laying at the visitors moorings. Fortunately there were several vacant moorings (13 moorings in total here - very good, and all free), and we picked up the best one in the bay - innermost and best sheltered from the waves. This is a much better harbour than out on the Isle of Jura - the swell doesn't get into the bay as much, and our boat is hardly rocking and rolling at all! As the weather forecast is for strong winds later today, we will stay here and prepare for the crossing over to Bangor which looks like being tomorrow if the weather forecast is correct.
(Above section written about midday, the rest later in the afternoon).
Ardminish is a pretty small place (ie. very small and pretty), but is does have a shop, so after a morning rest, we got in the dinghy and went ashore for a look around and to buy provisions. Despite its small size, Gigha has a large botanical garden of exotic plants, and lots of
rhododendrons. We wandered happily here for over an hour, stopping at a small hilltop with view over most of the island, also over to Islay and Jura on the other side of the sound.
Returning to the dinghy, the wind had increased even more, and there were nasty little steep waves in the bay - and we had to motor the dinghy against them in order to get back to Nano. There was no way of avoiding lots of breaking spray coming over us on the short trip back. We had to change out of our wet trousers and hang jackets to dry. The afternoon has otherwise been spent preparing the boat for the long run over to Bangor - which may now be delayed by one more day in order to let the winds calm down and turn more north-westerly. This will also let the waves die down - it takes some time for normal waves to resume after gale force winds have whipped up the sea state.
---