Nazaré in the rain.

Nano's blog.
Nigel Anderson
Sun 24 Sep 2006 16:29
Date: 24-09-06     Time: 16:00 UTC      Position: 39:35.03N  009:04.52W   Name: Nazaré 


Etter at vi fikk ødelagt landstrømmen i går, og nå er inneforstått med at vi blir her i Nazaré inntil vi reiser til Madeira 30/9, begynte vi med klargjøring til den 4 dager lange turen om en uke. Det var en strålende formiddag, og den første jobben var å slippe lufta ut av jolla, ta ut dørkplatene, og spyl alt ned med ferskvann for å få vekk sand og salt. Vi ble såvidt ferdig med dette og alt lå til tørk da regnet kom. Dermed ble resten av dagen en inne-dag som gikk til lesing, rengjøring og tømming av grovfilteret/vannavskilleren til motorens dieselforsyning. Her var det overraskende rent og vannfritt. I beste vedlikeholds-tenking fant jeg ut en bedre metode å gjøre jobben som innebærer litt mer forarbeid, men til gjengjeld blir det ikke dieselsøl i det hele tatt og dermed går det mindre tid til opprydding.
Siden vi ikke har lading av batteriene passer det bra at det blåser friskt i dag - da produserer vindmølla strøm til drift av kjøleskapet, lys osv. siden bilder av regn og kuling ikke kommer så godt fram, henter jeg fram et bilde vi tok her i Nazaré for et par dager siden.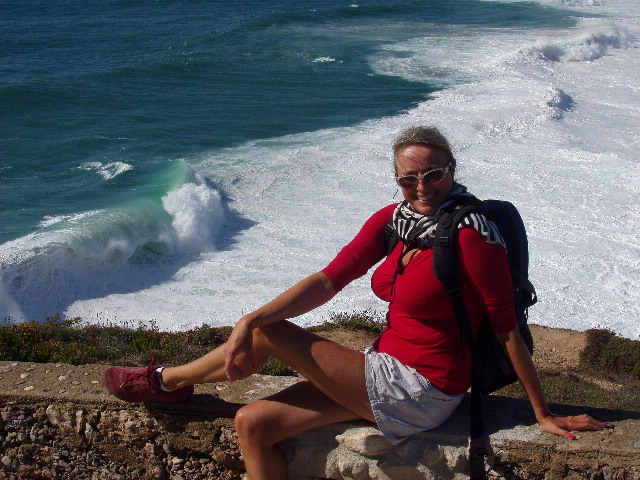 English version
Having had the land power system for the boat destroyed yesterday, we are now tuned into the idea of being here until we leave for Madeira on 30/9. We began thus with some of the preparatory work for this four day trip by deflating the dinghy, taking out its floor and hosing everything down to get out the sand and salt. It was a perfect morning for this with strong sun and a good breeze for drying things. However, before it could all get dried off, the rain started and washed out the rest of the day regarding outdoor activities. So the afternoon has been an in-boat day doing a little cleaning and reading for Rønnaug, whereas Nigel dismantled and cleaned out the coarse filter and water separator from the motor's diesel supply. This was surprisingly clean and water free. Unable quite to leave work back in Norway, I devised a slightly different way of doing the job which involved a little more preparation, but enabled the job to be done without spilling a single drip of diesel - thus eliminating the need for a big clean-up operation after the job is done.
As we can't charge the batteries from the mains we are fortunate that it is blowing a quite fresh breeze here in the harbour - so the windmill is producing about enough the keep the fridge running. As pictures of rain and clouds don't really come out well, I present a picture from a couple of days ago here in Nazaré.
---